Scientist's vision for artificial cornea
08/17/2004 10:37:11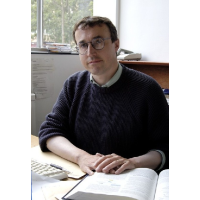 Potentially millions of people around the world could benefit from new research by a Lancaster University academic to develop an artificial cornea.
Dr Nigel Fullwood, from the Biological Sciences Department, will head up the research, which is being run jointly with Sheffield University. The project has received a £425,370 grant from the Biotechnology and Biological Science Research Council, to be split equally between the two universities.
Dr Fullwood, 43, and his team have three years' funding for the project and hope to develop the artificial cornea within five years. It could have an enormous impact - some ten million people worldwide suffer from blindness caused by cornea disease, up to half of whom don't have access to conventional transplantation.
The cornea is the transparent, outer window of the eye. It is just half a millimetre thick and acts as a powerful lens, focusing light on the retina. There are many causes of cornea disease, such as genetic conditions, the effects of ultra violet light, infections, accidents and a whole range of auto-immune conditions - all of which can cause blindness.
Cornea transplants are currently performed using human donor corneas. But not all conditions are treatable in this way, and in some countries, such as India and China, people are reluctant to donate body parts. Even in the UK, there is usually a wait of several months before a donor cornea becomes available.
"The idea of an artificial cornea is not a new one," said Dr Fullwood, who was recently awarded the Daiwa Adrian Prize for international scientific excellence. " There are several existing systems the most successful of which has been developed by Prof Chirila of Australia. However, there is still considerable scope for improvement".
" Our cornea will be made from a uniquely formulated hydrogel - a polymer which has a high water content - the sort of material that soft contact lenses are made from. We will modify it so that it can be inserted in the same way as a conventional cornea transplant and will become fully integrated into the eye. If we succeed instead of waiting for a donor cornea you will be able to get one off the shelf - in a similar same way a plastic lens is used in a cataract operation."
As well as working with Sheffield University, Lancaster also has a collaborator at the Manchester Royal Eye Hospital, surgeon Mr Arun Brahma.
At the end of three years Dr Fullwood hopes to have reached the stage where the artificial corneas can be clinically tested - and to get commercial backing for the project. "It would be good to think that we will have developed an artificial cornea within five years," he said. "Our ultimate goal is always that it will result in the improvement or restoration of sight."