Cyclists go Coast-to-Coast for Coronary Care
06/25/2008 10:50:28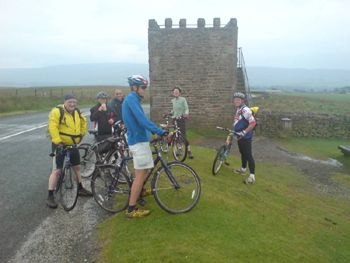 Coast to coast cyclists
A Lancaster University technician is again raising money for his local Coronary Care unit by cycling coast-to-coast in just two days with a team of 45 cyclists.
Ian Mercer, who works in the Physics Department, began raising funds for the Coronary Care Appeal at the Royal Lancaster Infirmary after a number of close family members were cared for by the unit.
Last year, along with University work colleague John Statter, Ian completed an extreme three peaks challenge which raised more than £5000 for Coronary Care, by climbing the 3 highest peaks in the UK and cycling the 460 miles between them.
But tragically, just two months after completing the challenge, Ian's mother passed away suddenly in Coronary Care.
He said: "Coronary Care at the RLI is a vitally important resource. The work they do is incredible. After my mother and mother in law both passed away in Coronary Care, I was even more determined to raise money for them."
Ian continued fund-raising for the hospital, completing the London Marathon on 13 April 2008 in a time of 3hrs 30 min 13 seconds raising £506. He is now leading a sponsored coast-to-coast cycle on July 5 and 6 with a team of around 45 riders – some of them from Lancaster University.
Beginning at Whitehaven, Cumbria, the group of determined cyclists will head cross-country to Sunderland, with one night stop over in Alston on the way. Taking only two days to complete this gruelling task, each rider raising at least £100 for the fund.
The equipment and organisation of the challenge is paramount, and a team of ten support staff with a number of minibuses and transit vans will accompany the team. They will also be on hand to deal with any repairs or problems which may arise whilst navigating the route.
If you are interested in supporting or donating for the challenge. Any help or sponsorship would be greatly appreciated, and Ian can be contacted on i.mercer@lancaster.ac.uk.