Biotechnology entrepreneurs
11/02/2005 09:50:41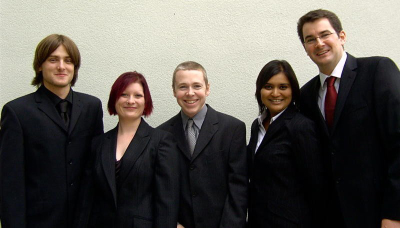 The Nottingham Regional Team (from left to right) are:
Mr Will Mallott, Miss Jo Heaton, Mr Jason Wargent,
Miss Krishna Morker, Dr Julian Theobald (Biology).
Two teams of young researchers from Lancaster University and the Centre for Ecology and Hydrology are set to test their business skills in a national competition for entrepreneurs in science.
The Biotechnology YES (Young Entrepreneurs Scheme) – sponsored by the Biotechnology and Biological Sciences Research Council - is an innovative competition developed to raise awareness of the commercialisation of bioscience ideas among postgraduate students and postdoctoral scientists.
Each of the teams will present their hypothetical business ideas to a panel of judges in either Nottingham October 19th -21st or Edinburgh November 16th-18th. The teams will be judged on their business planning and the feasibility of their plans for marketing, research and development, finance and management. Should they prove successful they will proceed to the final in London on December 14th.
Lancaster Environment Centre's Enterprise and Business Partnership Unit is sponsoring the teams in the latest round of the competition which has been running for seven years. This is the first year the University has entered the competition.
LEC – which is based at Lancaster University – brings together University scientists with those from the Natural Environment Research Council's Centre for Ecology & Hydrology to form one of the largest groupings of Environmental research scientists in Europe.
The Biotechnology YES teams are drawn from Lancaster University's Departments of Biology and Environmental Science as well as the Centre for Ecology & Hydrology.
Dr Ben Herbert, a member of the Edinburgh team, said: "Preparation for the Biotechnology Young Entrepreneurs Scheme competition has proved to be an engaging and enlightening experience. We are enjoying the challenge of developing scientific ideas for real world applications."
The research teams have been supported by their academic sponsors, Dr Crispin Halsall and Dr Nigel Paul and members of the EBP team, Dr Chris Holroyd and Dr Moira Decter. Dr Frank Cave of the Institute for Entrepreneurship and Enterprise Development in Lancaster University's Management School has provided the teams with a grounding in the basics of business start-ups.
Krishna Morker of the Nottingham Team said: "Frank's sessions have covered everything from how to pitch your company quickly and concilsely to business games, with much practical advice along the way. We have also benefited greatly from Chris Holroyd's expertise in Intellectual Property Development and Protection."
For further information on the BBSRC's Biotechnology YES competition go to http://www.biotechnologyyes.co.uk
i The Nottingham Regional Team are: Mr Will Mallott, Miss Jo Heaton, Mr Jason Wargent, Miss Krishna Morker, Dr Julian Theobald (Biology).
i The Edinburgh Regional Team are: Richard Maunder (CEH), Dr Malcolm Possell, Dr Ben Herbert, Ben Langford, Jan Weber (Environmental Science).