Hannah Frank - Exhibition at the Peter Scott Gallery
11/13/2001 19:12:21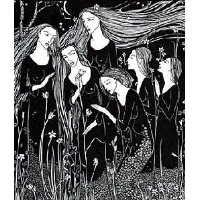 An exhibition is currently being held at the Peter Scott Gallery, displaying a collection of drawings and sculptures by artist Hannah Frank.
Born in Glasgow in 1908, Hannah was the daughter of a Russian refugee and grew up in the Laurieston district of the Gorbals. In 1930 she graduated from the University of Glasgow and later married in 1939. Her works during the years of the Second World War were reflective of the mood of the time, as a Jew, and with brothers in the Army these years were long and dark, and there were many illustrations of grim, gaunt figures, reflecting the plight of the refugees. It was also during this period that Hannah began clay modelling at the Glasgow School of Art, and sculpture became her main passion.
The exhibition highlights Hannah Frank's contrasting approaches to art and is a rare opportunity to see a range of work produced throughout her seventy-five year career. The legacy of the Glasgow School is apparent in her imaginative and highly decorative illustrations, which strongly contrast with her powerful bronze sculptures, reminiscent of the work of Henry Moore. Many of the works in the exhibition are for sale, including a selection of signed prints.
The collection of works was brought to the attention of the gallery by Hannah Frank's niece, Fiona Frank who works here at the University and who says;
" I've grown up with these drawings and sculptures and it is really great to see them getting another public viewing at this stage in my Aunt's life. Aunt Hannah has said she wants to leave 'footsteps on the sands of time' and I'm really pleased Lancaster University is helping her to do this."