Red Carpet- Lancaster University Art Department Degree Show 2005
05/20/2005 16:00:54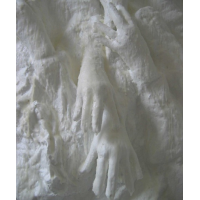 'Red Carpet', an exhibition of artwork by final year Art Practice Degree students at Lancaster University, will be on display at the Peter Scott Gallery on Lancaster University Campus 15 –23 June. The exhibition premieres a diverse and exciting collation of contemporary fine art practices. Offering visitors the chance to see and enjoy original artworks from a wide range of interrelated disciplines, the work reflects the Art Department's move into the future of interdisciplinary arts.
The exhibition will be an all-important first showing of the students' work - a début for their final creations. As such the exhibition acts as a platform for discovery; a showcase of inspired making and a unique viewing experience for visitors.
The graduating students are informed practitioners and their work confronts both the visual and intellectual sensibilities. The exhibition includes work that openly explores many different avenues for professional practice, both traditional and experimental, resulting in a show which appeals to all tastes.
'Red Carpet' is an opportunity to experience art at the cutting edge of the art world; work that is both impassioned and dedicated in its creation.
Many pieces in the exhibition will be for sale at competitive prices. The Peter Scott Gallery is located on Lancaster University campus; admission is free. Gallery open for this exhibition only: Mon – Sat 11am-4pm & late Thurs 11am-9pm. Tel: 01524 593057 www.peterscottgallery.com