HEYSHAM power stations sponsor Eco-Car
06/20/2001 13:28:39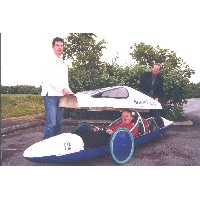 HEYSHAM power stations are backing an innovative partnership to create an ultra-efficient engine which runs on gas.
Evergreen Engineering has teamed up with Lancaster University's Engineering department to mount a serious bid in Shell's upcoming eco-challenge.
The competition pits ultra-efficient engines with their streamlined cars against each other to see which company can clock the most miles on the equivalent of a gallon of fuel.
Last year Evergreen Engineering, using a petrol powered engine, reached a staggering 1384 miles to the gallon.
The Cockerham-based company wanted to use a cleaner gas engine in this year's competition and had to get special dispensation from Shell. This kicked off a battle within the main event as other gas engines are also being entered.
Paul Andrews, the company's partner, said: 'We have had Rodolphe Plasse an MSc student from Lancaster University working on the engine ready for two events.'
'The main areas that he has to look at are retaining the car's performance with the change of fuel.'
Paul is hoping that the technology developed for the eco-car's events will see his company produce gas-powered engines for petrol-fuelled gardening equipment such as mowers and strimmers. There are health benefits to operators of gas-powered garden machinery, through inhaling fewer toxic fumes. The LPG engine will emit only 25% of the toxins compared to the petrol equivalent.
'The emissions from the engine are very low compared to petrol or diesel. The gas can also be stored in canisters and slotted onto the engines easily rather than have the spillage of cans, which again makes it more eco-friendly,' Paul added.
In the first competition Evergreen Engineering travel to Rockingham Indycar Circuit, Northamptonshire, for the first Eco-Car Challenge and the team then go to Aberdeen in August.
Teams from Honda and Mazda with multi-million pound backing will also be taking part in the events.
Paul said: 'We built the first car with British Energy's backing and thanks to their support over the last three years we have been able to look at gas power for the first time.'
For more information contact Vicky Tyrrell on 01524 594120.