First ever survey of palliative care in Africa
09/20/2006 10:14:41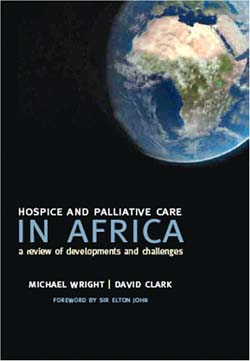 Hospice and Palliative Care in Africa
The first ever survey of palliative care in Africa has been published with the backing of The Diana, Princess of Wales Memorial Fund and the Elton John AIDS Foundation.
The book, "Hospice and Palliative Care in Africa", has been compiled by researchers at Lancaster University's International Observatory on End of Life Care.
It maps the state of palliative care in all 47 countries across the continent with the aim of providing information for governments, healthcare providers and funding agencies.
In the foreword, Sir Elton John says, "This book is a landmark document for anyone concerned about HIV/AIDS in Africa and the role of palliative care in supporting those affected by the epidemic that is occurring there. It lays down a solid platform of evidence about how hospice and palliative care services are developing across the continent and it provides a baseline against which to measure progress in the future. I commend this book to anyone interested in the fight against AIDS and in the struggle to promote palliative care across Africa."
The book was written by Prof David Clark and the Rev Dr Michael Wright of the International Observatory on End of Life Care.
Dr Wright said: "This book is a powerful tool for advocacy to promote interest and awareness of palliative care. It's effectively a roadmap of palliative care which allows governments, NGOs and health care providers to know what provision exists and to identify gaps."
The survey divides the continent's 47 countries into four groups according to the level of palliative care provision. The first category covers 21 countries where is no provision at all such as Angola and Benin. The second lists 11 countries where services are being developed such as in Algeria and the Cameroon. The third category covers 11 countries which have localised provision such as Botswana and Egypt, and the fourth category covers 4 countries where there is good provision such as in South Africa, Uganda, Zimbabwe and Kenya.
Prof Clark said: "It can be hard arguing for palliative care in countries where there isn't proper healthcare, but where you have high mortality, you have high levels of suffering and it's possible to relieve suffering at the end of life at low cost. We try to make a moral argument that freedom from pain is a human right."
In his introduction, Sir Elton says palliative care has a central role to play in dealing with the AIDS epidemic.
"The Elton John AIDS Foundation was born out of the frustration and sadness of watching people that I loved succumb to this disease. Home-based and palliative care has been the backbone of the compassionate response to the AIDS epidemic – from San Francisco to Soweto."
The Foundation collaborated with The Diana, Princess of Wales Memorial Fund in sponsoring the Africa section of the International Observatory on End of Life Care website and is now co-sponsoring this book.
Dr Astrid Honeyman, Chief Executive of The Diana, Princess of Wales Memorial Fund said: "We are very pleased to have supported the research and production of this seminal study on palliative care in Africa. The Fund has always sought to ensure that palliative care is part of the continuum of care for patients suffering from HIV/AIDS and we are confident that the book will play a critical role in getting this message across at local, national and international levels."
http://www.eolc-observatory.net/