Fylde College Win Recycling Contest
02/28/2008 11:34:35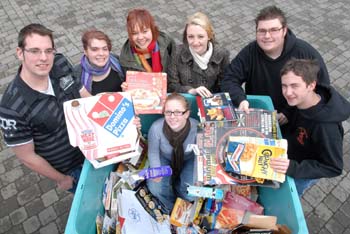 JCR General Secretary Laura Fernihough is surrounded by the other members of Fylde's JCR Executive
Students at Fylde College are to enjoy a free social event after their hard work to reduce their household waste paid off.
The amount of kitchen waste collected in bin stores fell by almost a quarter between 2006/07, earning the students a £250 cheque from Estates.
The ten week competition saw students at both Fylde and Furness Colleges pitted against each other in a race to rinse and recycle the most. Students were asked to take out and sort their own recycling from the kitchens to the bin stores, and Lancaster City Council weighed the amount at each weekly collection.
Fylde College won with a 22% decrease in the amount of general waste produced, down from 17 tonnes in 2006 to 14 tonnes in 2007. Furness College recorded an 11% increase from 9 tonnes to 10 tonnes in the same period.
Fylde JCR President Simon Rimington said: "I'm pretty pleased that we won against our traditional rivals and £250 is quite a lot. We might spend the money on subsidising a bowling trip for the whole JCR."
The JCR Sports Secretary Chris Houston said: "It helped that the bins were only 100 yards from the kitchens which makes it easier to recycle but everyone did their bit to ensure we won."
The JCR General Secretary Laura Fernihough said: "We take turns in our flat so the same person doesn't end up doing everything then it's not so much of a chore. Once you get used to recycling, it becomes a habit and we'll continue even though the competition is over."
The pilot project was run in partnership with the City Council, Green Lancaster and the Waste and Resources Action Programme. Posters, kitchen bins and waste compounds were clearly labelled and student recycling facilities improved so the bins were nearer to the kitchens. Posters and bin stickers explained to the students what to rinse and recycle, where to present it on collection day and how it would make a difference.
Environment and Sustainability Manager Jonathan Mills said: "Fylde's reduction of 22% will make a significant contribution to reducing the general waste that the University produces. Overall, the University produced 12% less general waste between 2006/07 so it is falling but we aim to reduce it even more."
Tom Roberts, the University's Environmental Co-ordinator, said: "This was about making it easier to recycle and creating an incentive for the students by making it fun. It's worked well and we'll be considering plans to expand this scheme across campus."