University Organist Marks 25 Years
02/15/2008 10:22:36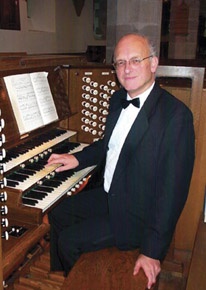 Ian Hare
Lancaster International Concert Series is delighted to welcome back Ian Hare to celebrate his twenty fifth year as Lancaster University Organist.
Ian is one of the country's leading organists and has been a seminal figure in his field since his appointment to the University in 1974. Subsequent to this he founded the Lancaster Singers and has directed choral societies across the Northwest, receiving one of Lancaster University's Honorary Fellowships as recognition of his work in 2006.
In addition to his work within the University and local community, Ian Hare has also toured extensively across the country, notably playing the Proms. He has also performed around the world, playing classic organ works alongside his own compositions in France, Germany, Holland and the USA.
This concert, entitled Spirit of the North, offers a unique opportunity to see Ian perform a selection of pieces united by their northern connections. These range from the Northern European flavour of Rheinberger to the works of J.H Reginald Dixon who occupied the position of Organist at Lancaster R.C. Cathedral for sixty years. Ian will also be playing arrangements of William Walton's rousing Richard III and a selection of his own works.
The concerts takes place in the Great Hall at Lancaster University on Thursday 21st February 2008 at 7.30pm, with an opportunity to meet Ian Hare at 6.45pm.
For tickets or further information contact the Box Office on 01524 594151 or email boxoffice@lancaster.ac.uk