Michael Palin opens exhibition at the Ruskin Library
10/15/2004 11:57:18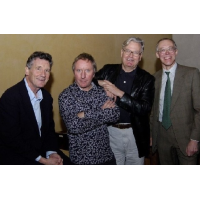 Writer, actor and former member of the Monty Python team Michael Palin visited Lancaster University on Wednesday to open a new exhibition at the Ruskin Library.
'Chris Orr's John Ruskin, and other stories' has as its starting point a set of ten colour etchings made in 1972 by Chris Orr, now a Royal Academician and Professor of Printmaking at the Royal College of Art in London.
A lively re-interpretation of the early life of the Victorian writer John Ruskin, these were published as a book in 1976 with the help of Michael Palin and Robert Hewison, recently Professor of Literary and Cultural Studies at Lancaster University and a Trustee of the Ruskin Foundation.
Both are lenders to the exhibition, which also shows Chris Orr's later work and includes another Ruskin subject made only this summer after a stay at Brantwood. The exhibition and its catalogue have been put together by Robert Hewison and the Curator of the Ruskin Library, Stephen Wildman.
In his opening speech, Michael Palin recalled the time he achieved celebrity as a member of the Monty Python team, whose humour is reflected in Chris Orr's often subversive take on history and literature. "He has said that the real subject is perhaps himself, but if you look closely at his work, it does show a kind of debauched innocence, which I hope isn't too autobiographical."
Earlier in the day more than 300 fans queued up outside Waterstone's, Lancaster University, where Palin was signing his new book 'Himalaya' which describes his most arduous and extraordinary journey yet.
He also signed a copy of a book he wrote in 1974 which has links to Grizedale College.
Grizedale Principal Andrew Okey asked him to sign an original edition of 'Bert Fegg's Nasty book for boys and girls', which was written by Palin in collaboration with former Monty Python colleague Terry Jones and included material later used in his 'Ripping Yarns' television series. The book was illustrated with colour artwork and made to look like a children's book.
Palin created a character in the book called Depravo the Rat, which was illustrated by the cartoonists Martin and Lolly Honeysett. An early member of college staff was friendly with Mr Palin who granted the College the rights to the character and Depravo the Rat became Grizedale's mascot from the Eighties until 2000. Although the College mascot has now changed, the college bar still retains the name 'Depravo's'.
The TV star was presented with a set of cufflinks depicting the character as a token from Grizedale College.
Chris Orr's John Ruskin, and other stories is on view at the Ruskin Library until December 23, Monday-Saturday 11-4; Sunday 1-4, admission free. For further details ring 01524 593589. The Ruskin etchings can be seen at http://www.lancs.ac.uk/users/ruskinlib/chrisorr.htm