Graduate Battles illness to take a first
07/16/2009 08:47:15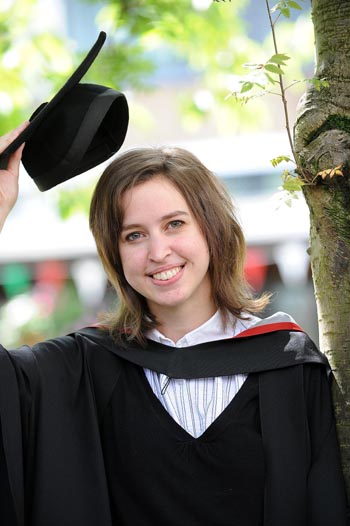 Rhiannon Connor
A Lancaster University student is on the way to the career of her dreams after overcoming a debilitating illness to win a first class degree.
This week Rhiannon Conner, 22, will graduate with a first in Religious Studies before beginning a Masters in Islamic Studies at Exeter University but for her the achievement has been particularly hard won.
She was first struck with (ME) Myalgic Encephalopathy - also known as Chronic Fatigue Syndrome - when she was just 13 and a pupil at Colston's Girls School, Bristol.
After months of tests, doctors finally diagnosed her condition but despite treatment Rhiannon struggled with exhaustion and pain to get through her GCSEs and A Levels.
And when she came to university in 2006 to study Religious Studies she was nervous about what lay ahead.
She said: "Coming to university was a massive step for me. I'm quite stubborn so I was determined I was going to manage on my own and be independent. After two days in it quickly became obvious that that wasn't going to happen. I thought, that wheelchair I've been keeping folded up in the corner? Maybe I should start using it."
From then on, thanks to her department, friends and the Disability Office, she began to get the support she needed.
"Everyone has been fantastic, from the very start they have taken me as they found me. You hear so much about the student life style but clubbing just is not an option for me and people have understood that. My friends were great, even helping me with shopping and cooking.
"At times I have felt so ill over the last few years but when I saw that grade I knew it had all been worth while. It proved to me that despite being unwell I can achieve things. My Mum and Dad were so happy for me. They've supported me so much in the last five years.
"Islam is so relevant to the modern world but is poorly understood. I'd love to pursue a career in academia and research, but if this is not possible, I'd like to work for an organisation, where I can help promote a better understanding of religion, and Islam in particular."
PIC cap Rhiannon Conner Lancaster University Bowland College student.