New Season launched at Nuffield
08/09/2007 14:36:17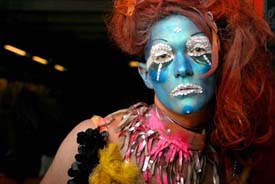 "The Be(A)st of Taylor Mac" by Taylor Mac
Performances that range from sound installations to spectacles of costume and technical wizardry will be on offer as part of the Nuffield Theatre's new season.
Lancaster University's Nuffield Theatre has a long standing tradition of staging and commissioning experimental performances, and the new season is no exception
The season opens with a theatre installation by Neil Mackenzie and Mole Wetherell, with sound artist Spencer Marsden, entitled "After Dubrovka"(Thursday 11 & Friday 12 October).
The performance, which will take place at the Grand Theatre in Lancaster, reflects on the events of October 2002 when Chechen rebels took over the Dubrovka theatre in Moscow, taking the audience and performers hostage. It features no live performers, but allows the audience to hear the voices of those speaking through a multi-speaker sound installation on stage and in the auditorium.
The autumn programme at The Nuffield is a season based entirely on recommendations made by artists whose work has already been shown at the theatre. These artists were asked to select an individual or group who had influenced their own work or impressed them with their originality and the resulting choices show a diverse mix of work from the UK and overseas that local audiences probably won't have seen before. Many are rising stars, some are well known in their own country but not yet familiar to British theatregoers. All are first-timers to the Nuffield.
The first piece to take place at the Nuffield Theatre (Thursday, 18 October) is a two-play performance by Sydney-based artist Rosie Dennis. "Access all Areas" explores workplace expectations, whereas "Hitting a Bick Wall" explores popular cultures' obsession with winning and winners.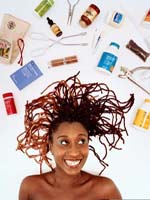 Malika Booker's "Unplanned"
The season continues (Thursday, 25 October) with Malika Booker's "Unplanned", a one-woman show which delves into all aspects of fertility, and "The Be(A)st of Taylor Mac" by Taylor Mac (Friday, 2 November), is a flamboyant mix of theatre, stand-up, cabaret, and intelligent comment.
Exquisite costume and technical trickery then combine in Rajni Shah's "Mr Quiver" (Monday, 5 November). This four hour performance installation features Rajni Shah as both Elizabeth I and an Indian bride. Audience members are free to walk among the performances or simply sit back and observe the spectacle around them. This is followed by a three part dance programme by Hofesh Schechter entitled "deGENERATION" (Thursday, 8 November); a triple bill of exhilarating physicality and nuanced drama with a terrific music score.
Tim Crouch's celebrated play "An Oak Tree" then comes to Lancaster (Friday 23 & Saturday, 24 November) following huge success at the Edinburgh Festival Fringe, a three-month run off-Broadway, and UK, European and Canadian tours. In this two-man show, one of the actors will never have seen or read the play until they are in it, and a new actor is used every night.
Cupola Bobber's "The Man Who Pictured Space From His Apartment" (Tuesday, 27 & Wednesday, 28 November), is both a gallery installation and formal performance, , while "Prepositions 1 & 2" by Miet Warlop (Wednesday, 5th December), is a piece which is both a performance and installation featuring "Proposition 1:Reanimation" and "Proposition2: Reconstruction".
The season wraps up with the unorthodox dance show "Take it Home" by "These Horses" (Thursday, 6th December) which draws on popular and alternative dance cultures, the iconography of live music, and the spectacle of sporting events.
For more information on the Nuffield Theatre go to http://www.nuffieldtheatre.com/default2.asp