Gus O'Donnell sets out vision for 21st Century Civil Service
03/02/2009 12:17:11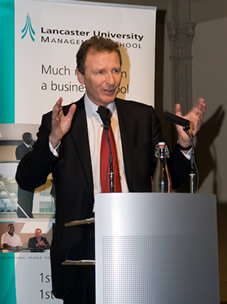 Sir Gus O'Donnell speaking at Lancaster University Management School's annual Professor Sir Roland Smith CEO Lecture.
Sir Gus O'Donnell, Cabinet Secretary and Head of the Home Civil Service, was the distinguished speaker at Lancaster University Management School's Fourth Annual Professor Sir Roland Smith CEO Lecture on the 18 February.
More than 120 senior delegates from the worlds of business and academia joined civil servants at the RSA in London to hear "Leading Change in Complex Organisations: The 21st Century Civil Service". The audience included newly-appointed Football Association Chief Executive Ian Watmore, currently permanent secretary for the Department for Innovation, Universities and Skills (DIUS).
Sir Gus began his lecture by focusing on the global economic crisis, and how the Civil Service is responding to the challenges of the recession. "The National Economic Council meets twice a week to discuss our response to the downturn," he explained. "It has concentrated on three key areas – jobs, homes and business – and new policies have already been introduced. Civil servants have been supporting the Government to develop fiscal stimulus packages, policies to help business and house purchasers, and labour market interventions. We are also providing extra support for the unemployed 
to get back to work, supporting small and medium-sized enterprises (SMEs) through better access to lending, and taking action to reduce the number of repossessions."
"We are also providing advice on the international aspects of the downturn, working with G20 countries to make a difference around the world," Sir Gus said. "We are looking at how the crisis came about, and what can be done about it, leading up to the London Summit on 2 April – the first meeting of its kind in London, and US President Barack Obama's first engagement in a European city."
Sir Gus said that response required a sustainable recovery plan – "we must not let the short-term recession take over the need to deal with long-term issues such as climate change."
The audience was then engaged in the challenges of developing a 21st century civil service – one that "returns to the public ethos where customers are at the heart of everything we do", Sir Gus said in his lecture.
"People using public services expect these to be as good as private services, so to be able to access services online, at their convenience, and when they have time. The Civil Service must respond to these demands, but we also have to promote our services for all customers including those who can't necessarily pay for these, with at best the same level or less financial resource," he added.
'Trust' among the public was also key, Sir Gus explained. "All civil servants must live by traditional values, which enable us to be flexible and respond to rapid changes, and levels of trust have doubled in the last 25 years. However, I was disappointed by the recent coverage around hospitality. Civil servants are more transparent about this than any others in public sector life. The Civil Service is reliable in tempestuous times – and it has risen to the challenge."
Sir Gus added that the Capability Review Programme, launched in 2005, has already led to the direct improvement of Whitehall departments. "We want to develop a new type of Civil Service – where collaboration and partnership building is key to success," he said. "It needs to be creative, innovative, flexible, and capable of adapting to change rapidly. The Civil Service is no longer a career for life – poor performance will be dealt with, and experience in other sectors is valued. It is an amazingly rewarding career, and with graduate recruitment up by a third this year, people are clearly motivated by the desire to make a difference, not the need to make a profit."
In the Q&A session chaired by Professor Paul Wellings, Vice-Chancellor of Lancaster University, Sir Gus said the mood among Civil Servants was positive. "While the demand for business products and services may have gone down, the demand for our services has gone up. For us that means lots to do to make a difference. Every day the Civil Service faces a new challenge, and that makes the job increasingly interesting and important. We are working as hard as we can with banks and other providers to make a difference as quickly as possible."
Professor Cary Cooper, Pro Vice-Chancellor (External Relations) at Lancaster University, said the event had been a resounding success. "Sir Gus is without doubt one of Britain's leading CEOs who has transformed the civil service in the process, and we were all gripped by what he had to say on the evening."
Professor Gerry Johnson, of Lancaster University Management School's Centre for Strategic Management, added that Sir Gus was "instrumental in strategic thinking in the public sector."