Lancaster International Concert Series Reaches Finale
03/06/2008 12:24:25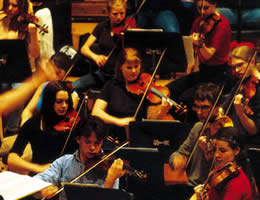 The Royal Northern College of Music Symphony Orchestra
Lancaster International Concert Series will end its 39th Season with a bang, as it invites the Royal Northern College of Music Symphony Orchestra to perform the spectacular and much loved Symphonie Fantastique by Hector Berlioz.
Symphonie Fantastique is one of the most famous pieces of musical autobiography, an intense and personal journey through the composer's demons. It is an epic work by any standard (Berlioz was obsessed with the Irish actress Harriet Smithson at the time), and through his music he charters the opium fuelled dreams of a young lover, an elegant ball that turns sour, a Witches' Sabbath and ultimately a long march to the scaffold.
The evening will open with a moving hymn like piece by Messiaen and also includes the dizzying and jazzlike Piano Concerto No 1 by Finnish Composer Rautavaara. The Royal Northern College of Music is one of Britain's premier conservatoires, and under the expert direction of conductor André de Ridder, they are guaranteed to let rip in this tour de force of a programme – a fitting climax to another successful concert series.
Plans are already underway for a programme worthy of celebrating Lancaster International Concert Series 40th Season, due to get underway in October 2008.
The Great Hall, Lancaster University
Thursday 13th March 2008 at 7.30pm
Royal Northern College of Music Symphony Orchestra
Messiaen Les Offrandes oubliées
Rautavaara Piano Concerto No 1
Berlioz Symphonie Fantastique
For tickets or further information contact the Box Office 01524 594151 boxoffice@lancaster.ac.uk
Online booking: www.lancasterconcerts.co.uk