Mattresses recycling scheme comes up roses
09/12/2005 16:32:41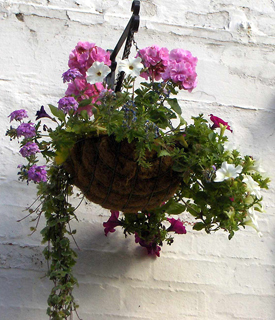 Flower basket made from recycled mattresses
Old mattresses at Lancaster University could be turned into hanging baskets as part of a new recycling scheme.
The first 1,000 mattresses were sent to FEAT Enterprises in Fife, Scotland, for recycling last week.
'SpringBack' – a bed recycling scheme run by FEAT Enterprises - deconstructs mattresses and other bed parts and sorts them into their component parts such as cotton, foam, fabric, coconut hair and springs. These parts are then baled and sold or passed onto other companies to create new products such as hanging baskets or trellises.
Sharon Woodruff, Environmental Manager at Lancaster University, said: "The University is replacing 2,200 student mattresses as they have reached the end of their useful lives. We are pleased to be taking part in this scheme, which enables us to ensure the mattresses don't end up in landfill sites. Although we won't know exactly where they will be used they will not go to waste."
FEAT Enterprises, Fife, which started operations in June is currently the only bed recycling facility in the UK.