Climate Change in Cumbria
05/02/2007 16:56:21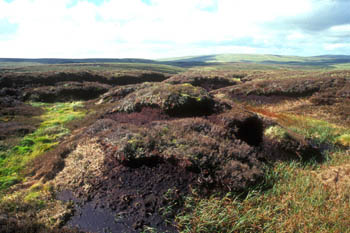 Climate warming could destabilise the carbon stored in northern peatlands
A Lancaster University Professor took part in a high-profile seminar focussing on the impact of climate change in Cumbria.
Professor Richard Bardgett of Lancaster University's Biology Department was one of the speakers at the event Organised by the Royal Geographical Society
Entitled Global Warming, What Do I Care? the seminar sought to bring the impact of Global Warming closer to home by examining the impact on local landscape and looking at our responses to those changes.
The event was attended by climate experts, ecologists, environmentalists, geographers, explorers, mountaineers, planning officers, land owners and teachers.

Professor Richard Bardgett, a soil and ecosystem ecologist, spoke about climate change and biodiversity loss. In particular, he highlighted three main concerns over climate change - the northward and upward shift in species, the degradation of high mountain ecosystems, and the destablisation of peatland carbon stores.
He was quoted in media including the Cumberland News and the News and Star.
http://www.cumberland-news.co.uk/news/viewarticle.aspx?id=485021
http://www.newsandstar.co.uk/news/viewarticle.aspx?id=483285