InfoLab21 Open for business
08/25/2004 11:03:05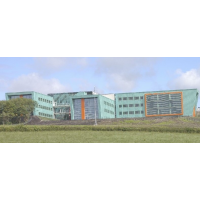 Hundreds of Lancaster University staff have moved into InfoLab21 – a major new Information and Communication Technologies facility on campus.
The £15m building, which was made possible with funding from the Northwest Development Agency (NWDA) and the European Regional Development Fund (ERDF), is now complete.
The Departments of Computing and Communication Systems will operate out of the new building – a new North West centre for ICT excellence - which hosts 250 academics, research assistants, research students and support staff.
Areas of expertise in InfoLab21 will range from software engineering to satellite communications.
Designed by FaulknerBrown Architects and built by HBG the copper-clad building with distinctive bronze windows includes state-of-the-art computer facilities, offices, teaching space, a glass atrium and café with a roof terrace.
InfoLab21 provides space both for University research and teaching and for business.
The next stage of development will see a new 1,500 m2 Knowledge Business Centre (KBC) opened in InfoLab21.
Discussions are now well advanced with a range of ICT based SMEs (Small to Medium-sized Enterprises) that are expected to take up residency before the year-end.
The facility will also provide space for larger international companies to further strengthen their relationship with the University with co-located research projects.
The KBC will act as an innovation hub, enabling the University to strengthen its links with business and enterprise through industry training and technology transfer.
The project is part of the Government's "third mission" which aims to bring universities, businesses and communities together. It enables Lancaster University to offer its support to regional businesses, promoting long-term business growth, forging lasting business relationships and enhancing economic prospects in the region.