Award-Winning Student Film-Maker Headhunted For BBC Documentary
05/03/2007 13:10:50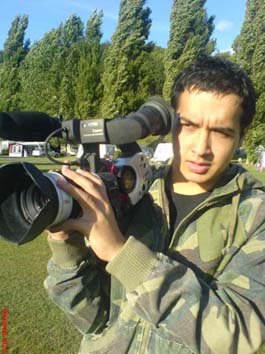 Danny Dewsbury
An award-winning Lancaster student is going Down Under after being headhunted to film a documentary in Australia for the BBC.
Documentary film-maker Danny Dewsbury was contacted by the independent production company Endemol - which produces Channel Four's Big Brother - after he swept the board at the National Student Film Festival this year.
He won two awards - the Grand Jury Prize for the Best Student Film and another prize for Student Documentary of the Year at the festival in Bristol.
His success attracted the attention of Endemol, which is making a series for BBC Three called "Fat Teens Can't Hunt", where ten overweight teenagers adopt a hunter-gatherer lifestyle with the help of the Aboriginals.
The teenagers will spend a month living in the outback where they will have to hunt and forage for their own food or risk going hungry.
Danny, who is a final year Media and Cultural Studies student, said he was taken aback by his success.
He said: "I'm chuffed that Endemol contacted me – it's a great start which will look good on my CV and hopefully lead onto work with other companies."
His award-winning documentary "Slave Labour" beat 90 other films at the National Student Film Festival to earn him a glass trophy and £1,000 prize in two categories which will be used to buy editing software.
His 25 minute documentary was based on voluntary work for the Labour Party after he answered an advertisement for a cameraman. He filmed party conferences and several high profile ministers but fell out with Labour after he asked for payment. The story was so controversial that it was even featured in the national press.
"It was a bad experience but I was determined to turn it into something good and that's why I decided to make a documentary about working for Labour, the party which introduced the minimum wage but which wouldn't pay it to me. I had to film undercover some of the time which raised ethical issues but I felt it was justified to show what was going on."
Danny says his studies at Lancaster led to his deciding on a career as a documentary film-maker.
"I knew I wanted to work in the media, but not which area. Then I did a course on documentary theory and I was hooked. Filming a documentary allows me to talk to people that I wouldn't normally talk to."
Another student, Greg O'Callaghan, also helped Danny make "Slave Labour."
http://education.guardian.co.uk/students/news/story/0,,1879042,00.html