New Zealand honour for Lancaster ecologist
11/15/2006 12:19:16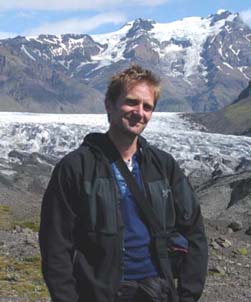 Prof Richard Bardgett
Richard Bardgett, Professor of Ecology at Lancaster University, has been elected to the Fellowship of the Royal Society of New Zealand.

He is one of only two Honorary Fellows chosen by the prestigious Academy, which also elected 10 new Fellows at this year's gathering of the Royal Society Academy Council in Dunedin, New Zealand.

Prof Bardgett said he was delighted to be elected to the Fellowship.


"It is a real pleasure for me because of the strong links that I have had with New Zealand throughout my research career. Both the people who I have worked with and the fantastic ecosystems of New Zealand have very much influenced my work. Much of my research is motivated by a fascination for mountains and their biodiversity, so New Zealand is an ideal place for me to carry out my work."

Prof Bardgett has made numerous research visits to New Zealand, supported by various research fellowships at Landcare Research and the University of Canterbury, Christchurch. He is due to visit the country again in the New Year.


His research looks at how interactions between plants and soils influence processes of nutrient cycling and the productivity and structure of terrestrial ecosystems. In addition to working in New Zealand, he has research projects in the tropical rainforests of Panama, alpine forests in the European Alps, and high Arctic tundra.

His work is published in more than 100 papers in the top ecological journals, including several papers in Nature and Science. His highly praised book, The Biology of Soil: A Community and Ecosystem Approach (Oxford University Press, 2005), is used worldwide and won this year's Marsh Ecology Book Award from the British Ecological Society. He is an Editor of the Journal of Ecology and acts on the editorial boards of other international journals in ecology and soil biology. He has delivered numerous keynote lectures at international conferences and many invited seminars at universities and research institutes around the world. He also acts as external tutor on several international courses in terrestrial ecology.


Prof Carolyn Burns, President of the Royal Academy Council of the Royal Society of New Zealand, congratulated the new Fellows.

She said: "These are people who have dedicated years of hard work and exceptional thinking to their respective fields. A lot of world class science is being conducted in New Zealand, but the selection process for Fellows involves such exhaustive selection with discipline-specific panels and independent international reviews that only a small number of those nominated ever get through."

The Royal Society of NZ now has 332 Fellows and 46 Honorary Fellows who provide expert advice, promoting scientific best practice and disseminating scientific information.