Lancaster scientist consulted on Liberian crop devastation
02/04/2009 15:05:36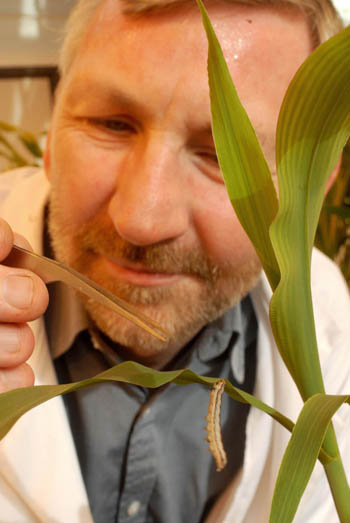 Dr Kenneth Wilson
A Lancaster University ecologist has been quoted widely in the international media this week on the growing crop crisis in Liberia, West Africa.
Pests, which have destroyed entire farms in days, were initially thought to be African Armyworms, but were in fact discovered to be a related species - the caterpillars of the moth Achaea catocaloides. More than 20,000 people in Liberia have so far had to evacuate their homes.
Dr Kenneth Wilson, who is based in the Lancaster Environment Centre, is an expert on Armyworms and, together with colleagues from the UK, Tanzania and Canada, has been developing a biological pesticide to bring Armyworm populations under control, preventing large-scale crop damage.
He said; "Currently the only way to control these outbreaks is by spraying with chemical insecticides, but these are too expensive for most farmers and can damage the environment.
"We are investigating radical new solutions using a naturally occurring virus in armyworms - Armyworm nucleopolyhedrovirus (NPV). It is harmless to humans and other wildlife but can quickly contain Armyworm populations."
Dr Wilson's research project, which is jointly funded by the Biotechnology & Biological Sciences Research Council and the Department for International Development is studying the detailed biology of NPV with a plan to harness it as a biological pesticide to prevent the early spread of armyworms and the resulting loss in crops.
It is a collaboration between LancasterUniversity; Natural Resources Institute, Greenwich; Laurentian University, Canada; and Sokoine University of Agriculture, Tanzania.
"We are well on the way to understanding how best to use this new biological pesticide", Dr Wilson said. "The next stage is to secure the funding required to produce large amounts of the NPV for wide-scale use in Africa. We could then be in a position to help countries like Liberia if Armyworm do attack".
For further information on this research please go to http://www.lancs.ac.uk/staff/wilsonk4/ARMYWEB/ARMYWEB.htm