Student entrepreneur founds worldwide business
03/01/2007 10:35:03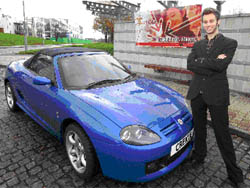 Lee Crossley with the car he bought after founding his own business
A student who set up his own business with help from Lancaster University is now running a successful company with customers from as far away as New Zealand.

Lee Crossley runs a thriving online music business founded with a grant of £1,000 from Create, which was set up by Lancaster University Student Union together with Research and Enterprise Services.
Employers were so impressed by his entrepreneurial skills that they offered him his first job on the strength of the business he founded as an undergraduate. Lee's firm, Backing Music, provides online music for people to download and sing to.

He said: "When the first order came through it was an incredible feeling! Orders were up and down for the first few weeks and then suddenly they went up!"
Lee set up the company in the second year of his studies in Computer Science at InfoLab21. After graduating, he began work for a web design firm in Preston who offered him employment based upon the success of Backing Music.
"I told them about Create and Backing Music during the interview and they told me that's why I got the job. How many students have their own business?"
With Backing Music now really taking off, Lee has left full time employment to dedicate himself to developing the business.
"Things are moving fast. I've got a contract with a major nightclub in the North West and will be supplying all their music and I'm providing the music for a school in Barrow in Furness which is having an X Factor type event.
"The experience and skills I got through Create have been fantastic and they have given me a massive amount of confidence. I would recommend that any student give it a go."

Create Project Manager Joseph Buglass said: "Lee has achieved a lot in a short space of time. Create was able to support the development of the business plan and help Lee overcome the challenges faced by someone setting up their own business.

"We are always keen to talk to students who are interested in starting their own businesses and are particularly interested in helping Arts and Humanities students."
Create was established in September 2005 and is funded by the Higher Education Innovation Fund.
Lee said: "The experience and skills I got through Create have been fantastic and have given me a massive amount of confidence. I would recommend that any student give it a go – they've got nothing to lose except the time they put into it."