Artist-In-Residence Set To Tear Down Walls
11/02/2007 12:50:35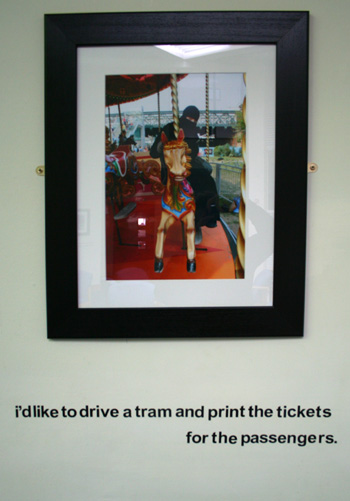 Image from the "Walls Project" at the Chaplaincy Centre
A Lancaster University artist has launched a new project which aims to dismantle prejudice brick by brick.
Conceptual artist Christine Dawson has been appointed artist in residence at Lancaster University's Chaplaincy Centre.
Her new project 'Walls' aims to use art to tackle the prejudices which separate people of different faiths and backgrounds.
Through workshops, art gallery visits, film-making and even a bit of knitting, the Lancaster-based artist plans to explore different ways of building and bringing down walls. From customised locally-fired bricks, to paper walls and knitted bricks – anything goes - and all are welcome to take part.
Christine, who will be based at the University's Chaplaincy centre until March 31 next year, said the project – only in its third week – was already at an exciting stage.
"I love working collaboratively. Art is such a wonderful way of bringing people together. The project is just starting to evolve and there are lots of ideas bouncing around.
"We hope to work with people from many different faiths both within the university and in the wider community."
Christine, a Lancaster University Art graduate, began addressing issues about faith and prejudice with her first exhibition What Makes Me Laugh? launched in February 2006.
Christine was in her final year of her degree at the University when she decided artists had a responsibility to reflect world events.
She said: "I was already exploring issues surrounding September 11 when the July 7 bombings hit London.
"It became evident to me that there was a backlash against members of the Muslim Community in Britain. I decided that an important aspect of my work would be to put a very positive light on the majority of peace loving Muslims both here and around the world."
The project is funded by a grant from the Home Office's Faith Communities Capacity Building Fund which aims to promote social cohesion.
Following What Makes Me Laugh? Christine went on to work on Sweet Dreams – a photography and text exhibition depicting the lives and dreams of Muslim women who wear the Niqab.
For further information go to www.whatmakesmelaugh.com