INFOLAB 21 - GETS GO AHEAD
11/05/2002 12:04:52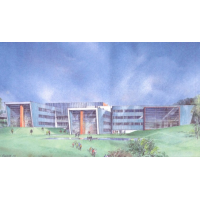 Lancaster City Council has given the University the go ahead to develop a brand new £15 million world class centre of excellence in Information and Communication Technology (ICT), with backing from both the Northwest Development Agency (NWDA) and the European Development Fund (ERDF).
The building complex, to be known as InfoLab21, will be completed by summer 2004 and will provide new research facilities for computing, and telecommunications. In addition, the project will provide facilities for technology transfer and incubation of high-tech companies based on University expertise.
Pro-Vice-Chancellor Richard B Davies said: "InfoLab21 has been developed in close consultation with the NWDA and is integrated with other industrial regeneration projects in the area including the Lancaster and Morecambe Economic Development Zone and the Bailrigg Science Park. "
Brian Gray, Chairman of the Northwest Development Agency said: "We recognised the strategic importance of this project some time ago and are delighted to see it coming to fruition. The strategic ambition with InfoLab21 is to create scientific and knowledge based industrial growth, primarily in ICT, driven by the expertise of Lancaster University.
InfoLab21 will enable industry to obtain competitive advantages from the research strengths, international networking and links with multinational companies of the University. It will also support growth in the vital ICT cluster through skills training organised through the New Technology Institute which will be housed within InfoLab21, attracting inward investment and incubation facilities for new hi-tech, high growth, spin-out and start up companies.