Henri Oguike Dance Company - in association with Lancaster International Concert Series
02/05/2004 10:36:41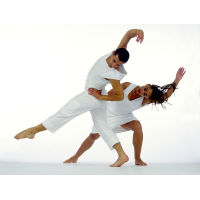 AWARD winning choreographer Henri Oguike is set to bring his seven-strong dance company to Lancaster University's Nuffield Theatre's on March 4.
Renowned for his vigorous, intricate and strong sense of musicality, Jerwood Choreography Award winner Henri Oguike will present a programme of contrasting dance pieces, including a UK premiere at The Nuffield.
Henri Oguike's work has been described as suggestive, intriguing and vigorous, generating a theatrical environment that combines powerful dancing and technical excellence.
The company will appear as part of their spring tour 2004 with live music from the Carducci Quartet. The event is presented in association with Lancaster International Concert Series.
The performance features a sextet to Shostakovich's 9th Quartet in E Flat, played live by the Carducci Quartet as well as multi media pieces.
Henri Oguike Dance Company was awarded the Time Out Live Awards 2001 as Most Outstanding New Company and Henri was a finalist in the Best Choreography category in The Critics' Circle National Dance Awards 2002.
L Henri Oguike Dance Company performs at the Nuffield Theatre, Lancaster University, Thursday, March 4, at 8pm. Box Office 0800 028 3042. Tickets: £7.50, £4.50 conc.