Installation of Sir Chris Bonington
01/19/2005 16:24:58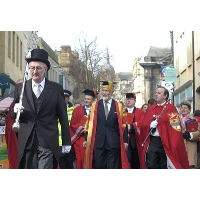 Sir Christian Bonington CBE, DL has been installed as Lancaster University's second Chancellor in a ceremony held in the Town Hall of Lancaster.
Members of the public looked on as the procession including academics, members and friends of the University wound its way from the Priory Church, where there was a service of welcome, and through the streets of Lancaster, taking Sir Christopher to the Town Hall. The procession was led by The King's Division Normandy Band.
Guests took their seats as an organ recital was given by the University of Lancaster Organist, Ian Hare, and the trumpet fanfares sounded as the academic and civic procession entered the Ashton Hall, where 40 years ago HRH Princess Alexandra was installed as Lancaster's first Chancellor in 1964.
The Vice Chancellor called upon the Secretary of the University to read the sections of the Charter and Statutes which relate to the appointment of The Chancellor, and Sir Christian Bonington was invited to enter the chamber. Sir Christian then made a declaration to maintain and uphold the privileges and rights of the University.
In his speech, Sir Chris said that he was very honoured to accept the appointment, and had particularly enjoyed the all-faith service at the Priory and the walk through the city which brought back childhood memories as at the age of six, Sir Chris was evacuated from London to Kirby Lonsdale in 1940 during the war. He and his family the came back to live in Cumbria in 1962.
Sir Chris went on to say that he has been impressed with the warmth and friendliness of all the people that he has met at the University and the vibrancy and international feel of the place. He mentioned the International Centre for the Uplands, Cumbria as being an exciting initiative, and one which he was involved with at the start and touched on the regional outreach work that the University does including the volunteering service and the CLEO ( Cumbria and Lancashire Education Online) work which is networking all schools and colleges in the counties.
During the installation ceremony, the Chancellor conferred two honorary degrees on fellow Chancellors, Dame Janet Smith (Doctor of Laws), Chancellor of Manchester Metropolitan University and Professor Lord Robert Winston (Doctor of Science), Chancellor of Sheffield Hallam University, before meeting University staff and students on campus, in the Great Hall.
Sir Chris Bonington, who was knighted in 1996, is Britain's best known mountaineer. He has led and been on 19 Himalayan expeditions, including four to Everest which he climbed in 1985 at the age of 50, and has made many first ascents in the Alps and greater ranges of the world. He is also the author of 15 books and has presented and appeared in many television programmes. Lancaster University awarded him an honorary degree in 1983 ( DSc Hons).
Please follow links for more photographs of the event.
http://domino.lancs.ac.uk/info/lunews.nsf/I/D386576129BA26CF80256FC000501EC4
http://domino.lancs.ac.uk/info/lunews.nsf/I/1486ECE9E15D37EF80256FC00050A0FC
http://domino.lancs.ac.uk/info/lunews.nsf/I/2813C1839A16BD4780256FC10053B906
http://domino.lancs.ac.uk/info/lunews.nsf/I/26888AA75CBB10AC80256FC100528D78