Lancaster Environment Centre
01/26/2001 16:52:08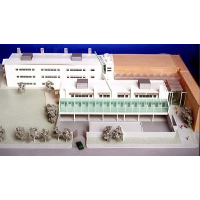 Lancaster University will house one of the largest groups of environmental researchers and teachers in Europe when the Natural Environment Research Council (NERC) moves 70 of its scientists from their Merlewood Research Station in south Cumbria, to join University researchers in a brand new building on campus.
Construction of the £11m building will start in June this year, and the deal was sealed with an official signing of contracts by NERC chief executive Professor John Lawton and Lancaster University Vice-Chancellor Professor Bill Ritchie on Tuesday 30th January in Swindon.
Professor Bill Davies from Lancaster University's top-rated Environmental research group is leading the academic side of the partnership. He said: 'The relationship between NERC and the University will undoubtedly be a fruitful and beneficial one. There is a good fit between the University research and the NERC research that will move to Lancaster. We have world leaders in several of our research groups and these magnificent new facilities can only help in allowing us to address ever more important environmental issues and exploit new funding opportunities'.
Under the deal NERC will be contributing £6.8m to the building and the University £4m. Millions of pounds worth of specialist equipment will also be housed in the building. For example, NERC's Stable Isotope Facility, which allows scientists to track substances like nitrogen or carbon through the environment.
The new building will consist of 2 wings, one for NERC and the other for the University. There will be 5 specialist new laboratories, 15 new glass houses and 10 controlled environment rooms, enabling the scientists to exploit opportunities in environmental chemistry, plant biotechnology, genomics and agriculture. These are areas where Lancaster already has a world class reputation.