Spotlight on St Ives
04/20/2007 10:41:31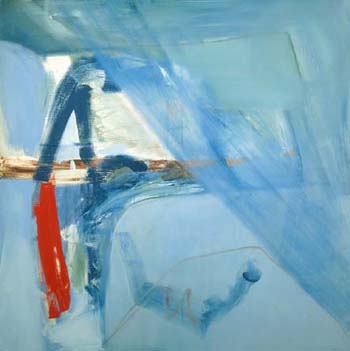 Peter Lanyon, Soaring Flight, 1960, oil on canvas, Arts Council Collection
Some of the most innovative and influential art in twentieth century Britain will be on display at the Peter Scott Gallery on campus, part of the Lancaster Institute for the Contemporary Arts (LICA).
The "Spotlight on St Ives" exhibition explores three decades of art inspired by the landscapes of West Cornwall, with many of the artists – such as sculptor Barbara Hepworth – achieving international renown.
The twenty five paintings, prints, drawings and sculpture are part of a Hayward Touring exhibition from the Arts Council Collection, the largest loan collection of postwar British art in the world.
The artists who were associated with the St Ives School worked in a diverse range of media and styles, united primarily by the unique light and landscape that informed their work.
Starting with Ben Nicholson and Barbara Hepworth, the exhibition introduces other artists who worked in Cornwall in the post-war years, including well-known figures such as Terry Frost, Peter Lanyon and Roger Hilton.
Hepworth and Nicholson were central to the growing artistic community, and a number of younger artists, including Terry Frost, John Milne and Denis Mitchell, worked as Hepworth's studio assistants. In Red, Yellow and Blue (1962), Frost evokes the experience of walking along the quayside, seeing moored boats rocking against each other: 'It is the sensation', he explained 'you don't copy it.'
Other artists sought alternative viewpoints from which to experience the landscape. This led Peter Lanyon to take up gliding, and Soaring Flight (1960) is one of several works that describe the sensation of flight. Similarly, Bryan Wynter's series of paintings from the mid-1950s were inspired by his canoe outings, exploring new perspectives related to the experience of moving on or below water.

In the post-war years, others came to join the thriving community. Roger Hilton was a regular visitor from the mid 1950s, eventually settling in St Just in 1965. His freely painted, highly personal abstract shapes take their inspiration from the body as much as the landscape. Confined to bed during his final years, he produced a series of lively gouaches, many of which provide a witty and bleak comment on his predicament.

Patrick Heron settled permanently in Zennor in 1955, drawing inspiration from the visual experiences directly around him, with the colours and circles in paintings such as Ultramarine, Cinnamon and Dull Yellow (1960) relating to the boulders and flowing shrubs in his impressive garden.
The exhibition will be opened by the late Sir Terry Frost's son Anthony on April 25 and will run until June 2.
Peter Scott Gallery
Lancaster Institute for the Contemporary Arts
Opening hours: Mon - Sat 11am – 4pm
Thursday 11am – 9pm
Open Bank Holidays 7 & 28 May, 11am – 4pm
Free Admission
Tel: 01524 593057 Website: www.peterscottgallery.com