Lancaster University And Lancaster & Morecambe College Work Together On Literacy Research
06/25/2003 12:56:24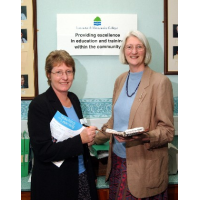 Lancaster University and Lancaster and Morecambe College are to work together on a new literacy research project.
The project aims to find ways to help students in Further Education to improve their literacy. Not only does poor literacy affect students' studies, employers find that literacy, along with ignorance of IT, is a key recruitment problem.
The three-year project begins in January 2004 and will be co-ordinated by Dr Roz Ivanic of Lancaster University's Literacy Research Centre.
Dr Ivanic and Professor David Barton will be examining just what sort of literacy is required for further education, for work and in students' daily lives. For example, students may have difficulty in writing essays, but have no problems sending text messages to friends, arranging a gig or chatting on the web. They want to find out whether reducing the gap between these different sorts of literacies by developing the college curriculum and assessments might help students to be more successful in further education.
The project is part of the national Teaching and Learning Research Programme, which is launched in Westminster on 25 June 2003 and is funded by the Economic and Social Research Council, the UK's largest funding agency for research and postgraduate training relating to social and economic issues. Dr Ivanic said 'It's very exciting for Lancaster to be selected to participate and conduct major research as part of the programme'.
Researchers based in Lancaster and Morecambe College will be a part of the team conducting the research and will make sure that it is relevant to the needs of students at the college. Also involved in the project are the University of Stirling and three other Further Education colleges, two in Scotland, and one, as yet to be announced, in the North West.
Photograph - Dr Anne Purvis, Deputy Principal of Lancaster and Morecambe College and Dr Roz Ivanic, Project Director, Lancaster Literacy Research Centre.