Computers help explore the Universe
06/24/2005 12:31:27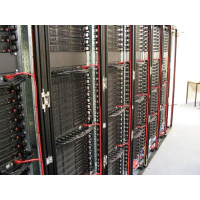 High-powered computers are helping Lancaster University Physicists to address fundamental questions about the origins of the Universe.
The University is now home to the UK's largest Intel 64-bit cluster. New 64-bit technology enables computers to perform more quickly and efficiently using the same number of chips. This creates higher-powered computers that can be linked together to create one of the most powerful computer grids in the UK.
Computers usually process data in 32-bit chunks; by enabling the computer to process information in chunks, which are twice the size (64-bits), the performance is significantly improved, especially for processing large datasets.
The extra capacity will be necessary to support the type of Physics carried out by Lancaster University's Particle Physics Research Group in the coming years.
The group is part of a global network of top-level scientists who are investigating the building blocks of the universe – looking at the most fundamental constituents of matter and the laws governing its behaviour. To do this, scientists need to study particle collisions at a very high energy. This is like looking back in time, recreating the environment present at the origin of our Universe.
International experiments – such as the ATLAS project at CERN (The European Organization for Nuclear Research) in Geneva – are producing increasing amounts of data. This data is then analysed by research groups around the world- including Lancaster University.
Dr Roger Jones of Lancaster University Particle Physics Research Group said: "From 2008 the Atlas experiment will be producing the equivalent of a 17 km stack of CD's full of information each year. As one of the universities charged with analysing that data these computers will be a necessity to us here at Lancaster. "