Lancaster leads £3.24 million creativity project
02/03/2010 13:13:35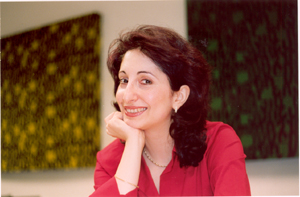 Dr Corina Sas
Computer Scientists at Lancaster University are leading a £3.24 million project investigating the role of creativity in science and technology.
Computer scientists, psychologists, artists and designers from across Europe have embarked on the four-year project which aims to advance the current understanding of the creative design process applied in scientific and technological problem solving.
Poetry, art and music will all come under the microscope of the research network which brings together seven institutions from the UK, Denmark, the Netherlands, Italy and Portugal and benefits from the participation of Philips Research as an industrial partner.
Researchers hope their work will lead to the elaboration of:
Theories and models of creative processes and creative problem solving
Methods, techniques and systems to support creative design processes and creativity training.
The project – called DESIRE – is led by Dr Corina Sas from the Computing Department in Lancaster University's InfoLab21.
She said: 'Writing poetry, designing computer programs or solving research questions all demand a high level of creative thinking. "This work sets out not only to try to get a better understanding of those creative processes but also to find new ways of supporting creative problem solving. Our research findings will be just as applicable whether you are building an interface for a wearable computer (such as a jacket that can read your heart rate) or working in the field of augmented reality - technology which enables you to overlay information from the web onto the real world creating an 'augmented' view of the world around us."
DESIRE is an Initial Training Network funded by the European Commission under the 7th Framework - Marie Curie Actions Programme.
Thirteen PhD students and two Post Doctorates are taking part in the intensive research training programme, which includes industrial secondments and four large events open to the relevant research communities.
The first event was a summer school, which took place in Gargnano, Italy in September 2009. Thirty-one students participated, most of them with a background in computer science, design, human-computer interaction or communication science.
Future events include:
a conference in Aarhus, Denmark on 16-17 August 2010
a summer school in Portugal between 19-25 September 2010
a conference in the Netherlands in 2011.
Details about these events will be made available on the project website at http://www.comp.lancs.ac.uk/~corina/DESIRE/index.html.