Visa President visits Management School
11/08/2005 16:53:53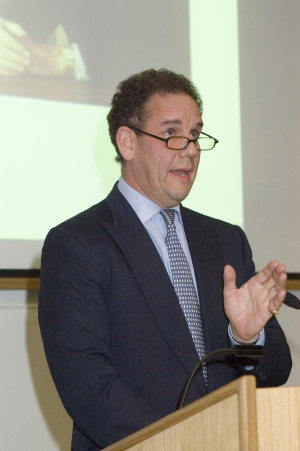 Christopher Rodrigues
In a world of constant technological change business leaders need to stay one step ahead if they want to succeed, according to the President and Chief Executive Officer of Visa International.
Speaking at a special lecture at Lancaster University Management School this week Christopher Rodrigues drew from his personal business experiences to provide an overview of what it takes to stay connected with your customers and colleagues in the 21st Century.
Mr Rodrigues, gave the Management School's second Professor Sir Roland Smith Chief Executive lecture in the Lancaster Leadership Centre on Monday, November 7. The series of lectures commemorate the contribution Sir Roland Smith made to the world of academia and business.
The lecture - Leadership and Change Management in Tomorrow's World - addressed the challenges and opportunities of living in a world of constant technological change.
Lancaster University has hosted some of the most influential business leaders from Stephen Green, Group Chief Executive of HSBC Holdings plc to John Roberts, CEO of United Utilities and Larry Hirst, Chief Executive of IBM UK Limited.
Guests at the lecture included business leaders from a wide range of public and private enterprises such as North West Public Health Team, Blackpool & Fylde College, Business Link, Royal Mail, Cannon Hygiene Ltd, Britannia Building Society, Pilkingtons and Astra Zeneca.
Mr Rodrigues said: "Today's technology-driven world is increasingly turbulent and fast-paced. As each new technological advancement comes to fruition, people across the globe become even more connected and even more available. In turn, business leaders are faced with both the challenge and the opportunity associated with keeping up with constant technological change, as well as innovating future product applications for the growth of their business. Smart leaders need to look up and down regularly. They need to know where they are going and where they have come from if they are to be effective change agents."
Lancaster University Management School Dean Professor Sue Cox said: "This inspiring presentation by Chris Rodrigues is the latest in what will be an increasingly common occurrence in the landmark surroundings of the Lancaster Leadership Centre. This outstanding facility which is part funded by the Northwest Development Agency has significantly enhanced the opportunities for North West business leaders to meet and learn from the worlds best."
President and CEO of Visa International since June 2004, Mr Rodrigues has extensive experience in both the financial services and travel industry.
He is currently on the Board of Advisors of the United Nations Year of MicroCredit; the Board of Directors for the World Travel and Tourism Council and is a Non-Executive Director of Hilton Group plc. Mr. Rodrigues also is a Steward of Henley Royal Regatta.
Mr. Rodrigues was educated at Cambridge University and Harvard Business School. He is a Fellow of the Royal Society for the encouragement of Arts, Manufactures and Commerce (FRSA).