Ecology Student qualifies for World Triathlon
04/28/2008 13:03:36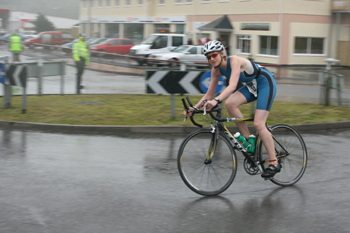 Sonia Povey
A Lancaster University Ecology student has qualified to compete in the Vancouver Triathlon World Championships.
Sonia Povey, who is completing a PhD at Lancaster University's Environment Centre, has been preparing for the event since January undergoing a gruelling 15 hours of cycling, swimming and running each week.
Originally from South Africa, but now living in Lancaster, the 28–year-old juggles her busy training schedule with the demands of University life.
She said: "I am studying for a PhD in Insect Immunity with Dr Ken Wilson and as I'm in my fourth year, I'm currently trying to write up my PhD, so it's a little stressful trying to fit everything in with my training."
In order to compete in the Triathlon, Sonia had to finish in the top four at one of the four qualifying events last year. At her qualifying event – the Northampton Triathlon in September - she finished in the top four of her age group (25-29).
Sonia is hoping to beat her personal best times at the Vancouver Triathlon in June.
She said: "I competed in last year's World championships which were in Hamburg, where I came 30th out of about 100, so I was quite pleased with that, especially as last year was my first full year of competing in triathlons.
"I have had tremendous support from many people in Lancaster including Ian Bailey at The Running Centre. Without his sponsorship I wouldn't have been able to compete in Vancouver."
Beside her athletic ambitions Sonia hopes to become a sports physiotherapist, which she is due to start training for in January 2009.