New chair to pioneer hospice research
04/11/2006 10:55:11
Lancaster University has been awarded funding to create a new Chair in Hospice Studies.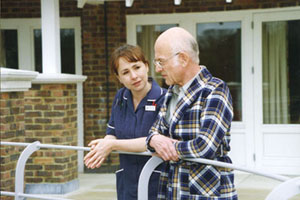 The chair, which is the first full time post of its kind in the UK, will be supported over five years by the national charity Help the Hospices which was founded in 1984 to support the growing local hospice sector in the UK. It will be based in the International Observatory on End of Life Care at Lancaster University and will lead on important new research to help improve the lives of the many thousands of patients and families who depend on hospice care every year.
The funding will enable the University to carry out new research into the contribution of hospice care as well as delivering training and education.
New research generated by the Chair will build up an important evidence base documenting the role of hospices in the community both nationally and internationally. This evidence can then in turn become a springboard for future service innovation in hospice and palliative care – a vital and increasingly high profile area within UK health and social care .
Key areas of interest to the Chair will include:
The role of hospices in the delivery of end of life care in Britain and internationally
Evaluation of the defining characteristics and associated costs of hospice care
The relationships between hospices and their local communities
Future direction of hospice care
Activities that promote the good governance and management of hospices through education programmes
Ideas, projects and activities that will lead to improvements and change in practice
The Observatory – part of the Institute for Health Research - is an International research centre specialising in the development of hospice and palliative care.
Professor David Clark, Director of the International Observatory on End of Life Care
Professor David Clark, Director of the International Observatory on End of Life Care, said: "This chair is very exciting news for Lancaster University and the Observatory and builds on our excellent working relations with Help the Hospices. When appointed, the new professor will make a huge impact on our understanding of how hospices contribute to the provision of end of life care – and how we can go on improving it."
David Praill, Chief Executive of Help the Hospices said: "This is a very important development and a real opportunity. A recent BBC Poll[1] found an incredible 97% level of satisfaction amongst the public with hospice care – yet we lack strong evidence based research which demonstrates exactly why this is, and what more we need to do, in order to reach more people in need. Hospices are mostly small local charities and quite rightly they have focused their efforts on the considerable task of raising funds for patient care. As a result, there has been a lack of investment and co-ordination in research and a need for data. The person who takes on this post will have an opportunity to play a major role in plugging this gap and making a real difference in an exciting and fast-moving sector. "
The Help the Hospices Chair in Hospice Studies will be the first named chair in Lancaster University's faculty of Arts and Social Sciences.