Awards for outstanding engineering students
12/02/2011 00:00:00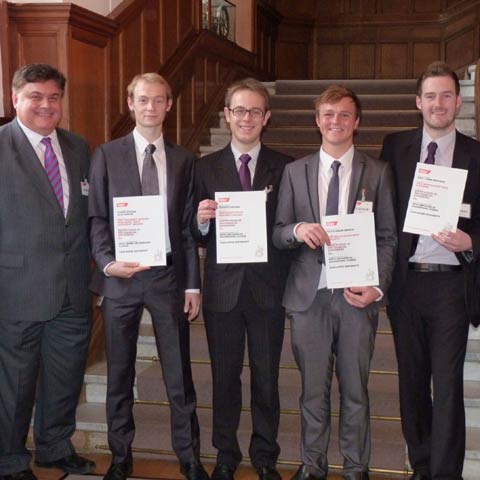 ​Four first class engineering students from Lancaster University have won awards for outstanding projects and academic achievement relating to Renewable Energy, Marine Energy, Hydro Power and the Formula Student Racing Car.

They were presented with their awards from the Institution of Mechanical Engineers at the headquarters in London by Dr Martin Yates, Acting Chairman of the Institution's Fluid Machinery Group.

Dr Martin Yates said: "The students' projects were all of a very high standard, and show the depth and breadth of the engineering capability at Lancaster University.  I am sure they will all have exciting careers ahead of them in whatever branch of engineering they choose to pursue. Hopefully some of them will remain active in the challenging field of fluid machinery design."

Audrius Zidonis won the IMechE Best Project Award (Certificate and Medal) for his project "Computational Modelling Automation and Process acceleration for Hydro Turbine performance model curves development".

Daniel Richardson won The Frederic Barnes Waldron Best Student Award (Certificate and Medal) for his project on "Delayed Stall in Symmetrical Profiles".

Shaun Benzon won The Institution Best Project Certificate for his project on the "Operational optimisation of a tidal barrage across the Mersey estuary using computational modelling".

Paul Edwards won The Institution Best Student Certificate and his team project was the "Lancaster Formula Student Racing Car".

Paul is currently working for Airbus Industries, while Audrius and Daniel continue as PhD students and Shaun as a Year 4 MEng student, all under the supervision of Dr George Aggidis.

Dr Aggidis is the Director of Lancaster University Renewable Energy Group (LUREG), which carries out research into conversion of energy from renewable sources and mainly water sources, including waves, tides and land-based hydro power. He is also a Board Member of the IMechE Fluid Machinery Group.

Dr Aggidis said he was pleased with the students' success.

"The project-based focus of the engineering teaching at Lancaster offers a significant benefit to our students because it gives them the experience of real world problems which they have to devise solutions for."

Engineering at Lancaster is well-respected, ranked 5th in the UK for Mechanical Engineering by The Guardian in 2011.
http://www.engineering.lancs.ac.uk/lureg/