£3/4m Chair in Nuclear Engineering and Decommissioning
09/28/2007 11:40:09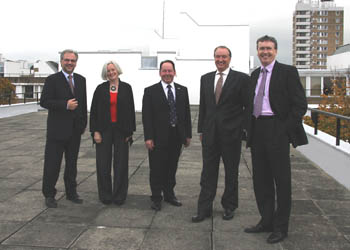 L-R: Professor Trevor McMillan,pro Vice-chancellor for research, Professor Mary Smyth,Dean of the Science and Technology Faculty, Lancaster University, Michael Franklin , Director Lloyd's Register Educational Trust, Alistair Thomas , Nuclear Business Manager, Lloyd's Register , Professor Paul Wellings Vice Chancellor , Lancaster University
Lancaster University and the Lloyd's Register Educational Trust have announced a new development in the drive to meet the needs of tomorrow's Nuclear Industry.
Lancaster University will formally launch The Lloyd's Register Educational Trust Chair in Nuclear Engineering and Decommissioning at an event at The Royal Academy of Engineering in Carlton House Terrace, London, in January next year.
The Lloyd's Register Educational Trust - a charity which funds advances in transportation, science, engineering and technological education, training and research worldwide has agreed funding for the Chair of £755,000 over five years.
Recent studies show that the Nuclear Industry is reporting a shortage in suitably qualified staff and - with demand expected to increase in response to the growth in nuclear clean up - the industry is expected to need up to 1,000 new graduates a year for the next 15 years.

The new chair will help plug this skills gap, building on Lancaster University's strong track record in Nuclear Engineering and acting as strategic contact between University researchers, academics and the nuclear industry.
Lancaster University has research expertise in nuclear safety, robotics, nuclear instrumentation, energy policy and environment. The University also teaches MSc courses in Safety Engineering, Decommissioning and Environmental Clean up and a new MSc in Low Carbon energy.
Michael Franklin, Director of the Lloyd's Register Educational Trust, said: "Lancaster University has a proven track record in undergraduate and post graduate education in this field, a broad research portfolio across a number of disciplines as well as strong links with the Nuclear Industry. We are very pleased to support this important initiative which will help make a significant contribution to the future needs of the nuclear industry."