Lancaster University Volunteering Unit Project Nominated For National Award
11/20/2003 13:32:16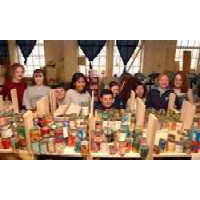 The Lancaster University Volunteer Unit (LUVU) has been nominated for a national award for its work for homeless people in Lancaster.
LUVU was nominated for its "Food Store" project, involving Lancaster and District Homeless Services. The project involved redesigning the system for collecting donations. The volunteers worked in conjunction with Lancaster University's Management School to redesign the system to incorporate efficient colour coding, lighting and shelving. The Sugarhouse also assisted by donating clothing rails to help separate the types of donations made more effectively.
The volunteers, Claire Yorke, Lyndsey Sterritt, Natalie Olde, Yang Shi, Angela Duerden, Gemma Garton, Emily Birch, Kieron Ellis, Wan Chi (Delia), Kari Russ and Timothy Rabone,
will travel to Old Trafford on December, 5th to find out if they have won one of the National Student Volunteering Awards.
Ben Matthews of LUVU told SCAN: "There were 15 new volunteers recruited this term in anticipation of the Christmas Shelter, the charities busiest event. The hope is to make effective use of the donations received by giving them out directly to those who need them. A new starter pack scheme has been initiated supporting people who are being re-housed by giving donations that should help them get settled easily, such as plates and cutlery sets. The project involved a lot of problem-solving and negotiation, and it is this that is being taken into account for the awards."
Anyone wanting to find out more about this or other LUVU projects should visit www.luvu.org.uk or pop into the LUVU office in Alexandra Square.