Honorary Degrees 2008
07/10/2008 12:15:29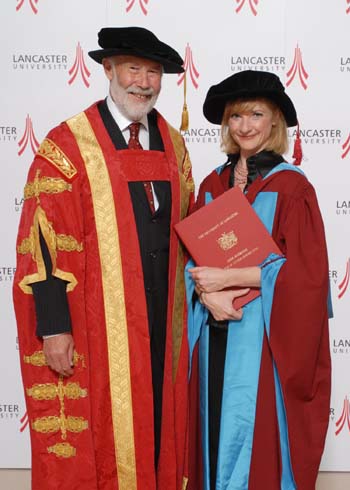 The Chancellor with Jane Horrocks
The film actress Jane Horrocks and fashion designers Wayne and Gerardine Hemingway who are all from Lancashire have been presented with honorary degrees by Lancaster University in recognition of their outstanding achievements.
The Chancellor Sir Christian Bonington also presented honorary degrees during the July degree ceremonies to two eminent scientists – Dame Carol Black and Professor Noreen Murray FRS – and Professor Sir Christopher Frayling of the Royal College of Art.
Jane Horrocks – DLitt
Born in Rawtenstall, Jane trained at RADA and began her career with the Royal Shakespeare Company. She drew critical acclaim for her performance in the 1990 Mike Leigh film Life is Sweet and became a household name with the role of the eccentric secretary Bubble in the TV comedy Absolutely Fabulous. She was nominated for a BAFTA for her performance in the film Little Voice with Michael Caine, a role which she also performed on stage.
Her other TV credits include Never Mind The Horrocks, a one-off comedy showcasing her versatility, the drama Linda Green with Liza Tarbuck, and the Robbie the Reindeer animations Hooves of Fire and Legend of the Lost Tribe, for which she voiced Robbie's secret admirer Donner. Her voiceover talents have also been used on the big screen, with credits including Chicken Run and The Corpse Bride.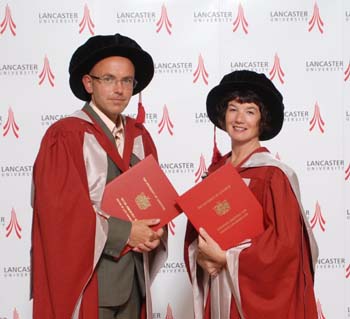 Wayne and Gerardine Hemingway
Wayne and Gerardine Hemingway – joint award Doctor of Laws
Born in 1961 in Morecambe, Wayne was brought up in Blackburn before gaining a degree in Geography and Town Planning at University College, London, in 1979.
Gerardine was born the same year in Padiham and after moving to London, the couple set up the global fashion label Red or Dead and sold it in a multi-million pound cash sale in 1999. They then created Hemingway Design, which specializes in affordable and social design and whose projects have won numerous awards.
Wayne is the Chairman of Building for Life, a CABE (Commission for Architecture and The Built Environment) funded organization that promotes excellence in the quality of design of new housing.
Both Wayne and Gerardine were awarded an MBE for services to design in the June 2006 Queen's Birthday Honours List.
Professor Sir Christopher Frayling - DLitt
Sir Christopher Frayling is Rector of the Royal College of Art where he is Professor of Cultural History. In addition, he is Chairman of Arts Council England, a Trustee of the Victoria & Albert Museum in London, and Chairman of the Royal Mint Advisory Committee, which selects the designs for new coins. He has also served as Chairman of the Design Council, Chairman of the Crafts Study Centre and a Governor of the British Film Institute. Christopher is well-known as an historian, critic and an award-winning broadcaster. He has published sixteen books and numerous articles on contemporary art, design, film and the history of ideas.
Professor Dame Carol Black – DSc
Chair of the Academy of Medical Royal Colleges and an eminent researcher in connective tissue diseases, Dame Carol was awarded the CBE for her work in this field in 2002 and in 2005 was awarded the DBE for her services to Medicine.
She is Professor of Rheumatology at the Centre for Rheumatology at the Royal Free & University College Medical School and she has also served as President of the Royal College of Physicians. Dame Carol has recently been appointed by the government as the first National Director for Health and Work. In addition, she has also been elected as Chair of the Academy of Medical Royal Colleges and appointed Chair of the Nuffield Trust.
Professor Noreen Murray FRS - DSc –
Prof Murray is an expert in molecular genetics whose work contributed to the invention of the first genetically engineered vaccine approved for human use. She was awarded a CBE in the Queen's New Year's Honours List in 2002.
Educated at Lancaster Girls' Grammar School and King's College, London, she obtained her PhD from Birmingham University in 1959. She is a member of the Government's Science and Technology Honours Committee, served as Vice-President of the Royal Society and was also President of the Genetical (sic) Society of Great Britain as well as serving on the board of the International Genetics Federation.