Dr Anne C. Parkinson (87) receives PhD
12/03/2003 09:36:49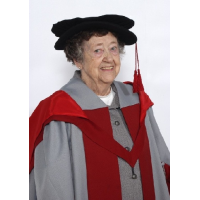 87 year old Anne Parkinson received her PhD from the University's Pro-Chancellor Mr Bryan Gray on Wednesday 3rd December 2003.
Anne, who has been studying in the History Department under Professor Michael Mullett is an ardent researcher into Catholic History.
In 1998, warmly supported by the late Bishop Brewer of Lancaster, she published her groundbreaking study, A History of Catholicism in the Furness Peninsula 1127-1997. As the dates on this title indicate, it was ambitious in its sweep over time and became extremely well received as a major contribution to the Lancaster University North West Regional Studies series of much-loved publications.
Anne has raised a large family and been deeply involved with the life of her local church and the Barrow-in-Furness community, but missed out on studying for a degree back in the inter-war years when the wider economic situation in Barrow was far from favourable.
In 1998 Anne Parkinson made a start on working intensely hard for a Lancaster doctorate, involving a major thesis of 100 000 words. Its subject was an extension of her published work on the Furness Catholic community -- a complete and definitive study of Catholics in the counties of Cumberland and Westmorland, from the Reformation (1558) to Catholic Emancipation (1829).
Professor Mullett said: "Her commitment to the essential research for this project and the extensive travel it required was formidable. In carrying out her labours, Anne Parkinson was making a huge contribution to our knowledge of the often secret life of the underground Catholic community in the two counties during the 'penal' period of active or latent persecution between the sixteenth and nineteenth centuries."
The dissertation, weighty in every sense, was due for examination by the 'internal' examiner, a senior member of the Lancaster University History Department, and the 'external' examiner, a leading figure in the history of English Catholicism during the period. These examiners had no hesitation in recommending the award of a doctorate for this substantial and authoritative piece of work. They also recommended that Dr. Parkinson should seek publishing opportunities in order for this work to be known to a wider readership and opportunities for publishing by nationally-known publishers are now being actively pursued.
Her many friends and her family hope to see the book out in good time for her 90th birthday -- in three years' time.