Lancaster Tops UK Research Rankings
09/28/2007 12:30:28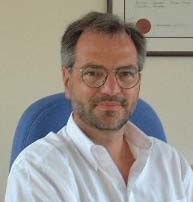 Pro Vice-Chancellor for Research, Professor Trevor McMillan
Lancaster University has beaten Oxbridge by coming top in a nationwide survey of successful research applications from UK universities.
Lancaster beat 36 other universities in a survey of institutions which had made more than 100 applications for grants to six research councils in 2006-2007.
Lancaster's 120 applications achieved a "sparkling" 40 per cent success rate according to figures compiled by the magazine Research Fortnightly, which collated figures from the BBSRC, MRC, NERC, ESRC, EPSRC and AHRC.
Cambridge University was ranked in second place with 39 per cent and Oxford and York tied in third place with a 37 per cent success rate.
Lancaster University was also ranked highest for successful applications to the ESRC, with a 55 per cent score.
Lancaster's Pro Vice-Chancellor for Research, Professor Trevor McMillan said: "Lancaster has a reputation for punching above its weight. We are a relatively small university which carries out high quality international research. This latest table show that Lancaster's academics are held in the highest esteem and are succeeding in the competition to carry out ambitious and relevant research."
Overall, Lancaster was ranked 8th when the survey focussed on research applications of ten or more. This ranking included other educational institutions such as the Rutherford Appleton Laboratory and the Natural History Museum. Top of the list was the Royal College of Art with a 60 per cent success rate for ten applications.
Research Fortnightly's news editor Brian Owens said: "A lot of universities had reduced the number of their research applications and so had improved success rates but Lancaster had made more applications and was just as successful. It shows that Lancaster is submitting well thought out applications."
A breakdown of Lancaster's 120 applications reveals that 17 were from the arts and humanities (35 per cent successful), 5 from biological sciences (20 per cent successful), 49 from engineering and physical sciences (39 per cent successful), 20 from economic and social sciences (55 per cent successful), 2 from medical research (50 per cent successful) and 27 from environmental sciences (37 per cent).
Brian Owens said: "The research grants we looked at were mostly research grants initiated by the investigator which means they were mainly blue skies research."

www.researchresearch.com