Music Webcasts First In UK
01/17/2008 11:38:10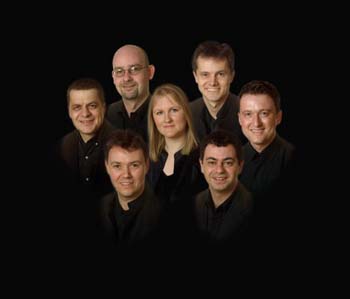 Psappha: by photographer Tom Bangbala and Nicholls and Nicholls Design
Lancaster University is to film and broadcast a series of live music concerts over the internet for the first time in the UK.
Cutting-edge technology means that the three new music concerts will be available shortly after live performance as permanent streamed webcasts.
The webcasts are a collaboration between the Lancaster International Concert Series, the BBC Singers and the music and theatre ensemble Psappha. They are being funded with the help of over £4,000 through the University Friends programme.
The three concerts will take place in the Great Hall at Lancaster University as part of the 2007/2008 Lancaster International Concert Series this spring. Each of the three webcasts will be available at no charge shortly after the live performance with the technical support of Infolab21, ISS and the University TV Unit. The second performance – on February 28th – will also be recorded for broadcast on BBC Radio 3's Hear and Now programme on March 15.
Lancaster International Concert Series, now in its 39th year, is part of the Lancaster Institute for the Contemporary Arts (LICA) and the three concerts are part of LICA's commitment to the development of new music.
Tim Williams, Director of the Lancaster International Concert Series, said: "This is a significant development for Psappha and Lancaster International Concert Series. By combining new works with established 20th century masterpieces we hope to attract a worldwide audience to this new venture. The project has been made possible through the collaboration of Lancaster University and the BBC Singers and each organisation is determined that the venture will be a great success and the start of a future trend in webcasts."
Over 32,000 people have attended the Lancaster International Concert Series over the past five years.
The concerts will be available as webcasts at www.psappha.com and www.lancasterconcerts.co.uk.
THE PROGRAMMES
LIVE! Saturday 9th February 2008, 7.30pm
Available to view on-line from Monday 25th February, 12 noon
Larry Goves Four Letter Words (Psappha/SPNM commission)
György Kurtág Signs, Games and Messages
György Kurtág Scenes from a Novel °
György Ligeti Aventures & Nouvelles Aventures *
Nicholas Kok conductor
Maria Husmann soprano ° • Jane Manning soprano * • Jessica Walker mezzo-soprano * • Dean Robinson baritone *
Music can speak to us as directly as words do. Here are three composers fascinated by how music can mimic, reinforce or alter vocal utterance – how instruments can sing, and how singers can take words into other regions of feeling and time. Now in his 80s, György Kurtág creates fractured miniatures that require singers and instrumentalists to perform at peak intensity: moments of raw emotion and existential doubt that are at once exquisite and vital. The work by his fellow Hungarian György Ligeti is a comic opera without words. Three singers go through a hilarious and touching routine, finding ways to express themselves, and to reach each other, in a language of sound and emotion. The young Manchester-based composer Larry Goves takes up the challenge in his own equally individual way.
Tickets: £10 (no concessions – unreserved seating) £5.50 Young person
Box office: 01524 594151 : Book online at www.lancasterconcerts.co.uk
LIVE! Thursday 28th February 2008, 7.30pm
Available to view on-line from Monday 17th March 2008, 12 noon
Claude Vivier Et je reverrai cette ville étrange (ensemble, 1981)
Claude Vivier Shiraz (piano, 1977)
Claude Vivier Glaubst du an die Unsterblichkeit der Seele? (voices/ens. 1983)
Claude Vivier Journal* (voices / percussion, 1977)
BBC Singers with Psappha
Nicholas Kok conductor • Carolyn Foulkes soprano* • Siân Menna mezzo-soprano* • Stephen Jeffes tenor* • Edward Price bass*
Claude Vivier was one of the great searchers of his time. Born in Quebec in 1948, he discovered his creative genius as he discovered his gay sexuality, and much of his music has the ardour and the sensuousness of a love song. But music for him was also a spiritual quest, a journey that led him around the world – to Germany, where he studied with Stockhausen; to Iran, where he found the inspiration for his lustrous piano piece Shiraz; to Bali, with whose exuberant culture he felt in tune – and that also led him deeply into himself. Eventually he found what he was looking for, a style of startling freshness and immense beauty, based on unheard-of melodies moving through extraordinary landscapes of colour and texture. Frustrated by the provincial atmosphere in Montréal, he moved to Paris in his early 30s, and there threw himself into a life of sexual danger from out of which his music would develop. His death, at the hands of a young lover, he eerily foretold in the work on which he was working at the time, Glaubst du an die Unsterblichkeit der Seele? This promises to be a dramatic and spell-binding concert.
Tickets: £14.50, £12 (£12, £9.50 concessions) £5.50 Young person
Box office: 01524 594151 : Book online at www.lancasterconcerts.co.uk
LIVE! Saturday 8th March 2008, 7.30pm
Available to view on-line from Monday 31st March, 12 noon
Gordon McPherson Unborne (Psappha / Cove Park commission)
Edward Cowie Psappha Portraits world premiere
Steven Mackey Five Animated Shorts (Psappha Commission)
Nicholas Kok conductor
All composed for the distinctive sound and instrumental line-up of Psappha, these three works are full of virtuoso writing. They also share a fascination with how music can tell stories or paint pictures. Gordon McPherson is one of today's most intriguing composers, his music direct and open. He wrote Celeste Unborne, for string trio and cimbalom, to convey his anticipation of the arrival of his second child and his wonder at the beauty of her birth. The work is accompanied by a newly commissioned 3D film by Dave Dunbar. In Psappha Portraits, a set of seven sound-pictures inspired by major painters, each study by Edward Cowie features music played first by a Psappha soloist, then coloured by the full ensemble. Steven Mackey's quirky and humorous work again features the cimbalom to add an exotic tang and move the exhilarating action along, in the manner of a short, animated film.
Tickets: £10 (no concessions – unreserved seating) £5.50 Young person
Box office: 01524 594151 : Book online at www.lancasterconcerts.co.ukon
Box office: 01524 594151 : Book online at www.lancasterconcerts.co.uk