New exhibitions open at Peter Scott Gallery
10/04/2004 16:48:01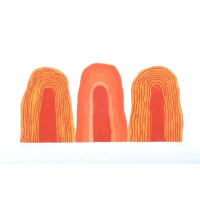 The work of influential Swedish artist Birgit Skiöld is now on display at the Peter Scott Gallery. An exhibition of prints, paintings and artists' book, on loan to the gallery from the Birgit Skiöld Memorial Trust Archive at Fermynwoods Contemporary Art, Northamptonshire, can be seen alongside works by Skiöld from Lancaster University's Irène Manton Collection.
Birgit Skiöld (1923-1982) settled in London in 1948, where she established the first printmaking workshop in the country in 1958. Skiöld was a founder member of the Printmakers Council, and helped to instigate the Bradford International Print Biennale.
Much of her later work is influenced by her visits to Japan, and reflects the meditative quality and the patterning of Japanese Zen gardens. As many of her prints incorporate embossing, a small selection of embossed prints and other Japanese works from Lancaster University Collection will be on display in the gallery's alcove area.
The artists's work is one of three new exhibitions at the Peter Scott Gallery, officially opened by Vice Chancellor Professor Paul Wellings and running until December 3.
A selection of sculptural ceramics by James Tower (1918-1986) is on loan from Gimpel Fils Gallery, London. Tower was a unique British ceramicist who consistently challenged the perceived limits of his medium. He studied at the Royal Academy Schools and the Slade School of Art, and held the posts of Head of Pottery at the Bath Academy of Art, and Head of Sculpture at Brighton Polytechnic. Tower's work is concerned with the union of the organic and the geometric, and is inspired by natural forms.
Contemporary ceramics by Cumbria-based potter Edward Hughes will be on display in the central contemporary ceramics case in the gallery's John Chambers Ceramics Room. Hughes trained in Japan, and his ceramics are influenced by Japanese traditional methods. He has work in many public collections including the Fitzwilliam Museum, Cambridge, and the Victoria and Albert Museum, London.
There will be a talk - Edward Hughes 'Tradition and Individual Talent: Serving Everyday Life on Friday' - on December 3 at 7pm. £2 per person or free to NUS card holders or Friends of the Gallery. To reserve a place, please call the gallery on 01524 593057.
Picture (above) courtesy of the Birgit Skiöld Memorial Trust