LUMS hosts national competition for Chinese entrepreneurs
05/11/2007 11:35:44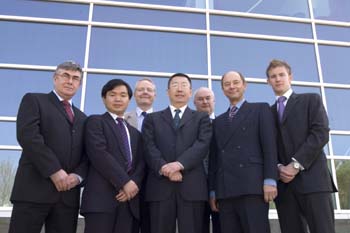 from left:Vince Cunningham, Yu Xiong, Dr Nigel Lockett, Chinese Consul Ding Wenzheng, Mark Underwood, Prof David Brown and David McGee
Teams of young Chinese entrepreneurs recently competed in the semi-final of a 'Dragon's Den' style enterprise competition to boost UK-China business collaboration. The competition was designed to inspire and generate new high-growth businesses and to encourage entrepreneurial talent amongst Chinese students and scholars.
From an original field of 207, eight short-listed teams from seven UK Universities competed for a share of the total prize of £10,000 by presenting their ideas and products along with business plans to the panel of judges. The winners will also receive expert business and enterprise advice from the sponsors to help put their ideas on the road to commercial success.

This China-UK Business Ideas Competition was hosted by LUMS and organised jointly by the Chinese Students and Scholars Association (CSSA-UK) and by the Lancaster China Management Centre. Mr Yu Xiong, Director of the CSSA organising committee and Vice President of the CSSA-UK, mentioned that its aim was to encourage people to develop collaborative businesses in China and the UK, and that this was a unique business competition in the UK and Europe. The competition is one of the core activities of the CSSA which is a Chinese government-supported network for Chinese students and scholars with over 100,000 UK members, and this 2007 event is the second such competition.

Professor David Brown, Director of the Lancaster China Management Centre, was Chair of the Panel of Judges.
He said: "China's economy is now one of the most robust in the world. It is more important than ever for Britain to foster relationships with Chinese businesses. Global challenges require global solutions and the competition is set to foster UK-Chinese business partnerships.
The Lancaster China Management Centre runs research and teaching programmes to develop the skills of Chinese managers, and the School has long-standing collaborations with Chinese universities. We were delighted therefore to be able to collaborate with the CSSA-UK to host this semi-final."
The four winners, on the day, were Do-Re-Mi Multi-function Music Teaching Assistance (multimedia teaching innovation to help students to understand music theory), Paisley University; Development and manufacture of electro-oxidation reactors for industrial waste water treatment, University of Leeds; Renewper Business Plan (next generation of superconductors for power generation), University of Cambridge, and Beijing Swirling Technology Company (electricity metering products systems and services start-up), The University of Sheffield.

The other four dragons on the Panel of Judges were Vince Cunningham, China Business Adviser, China-Britain Business Council, David McGee, Commercial Manager, Manchester Multicultural Commercial Centre, HSBC, Mark Underwood, Managing Director, Weldspares Ltd, Warrington, and Dr Nigel Lockett, Business Development Manager, Lancaster University.

Organisations supporting the event include the Chinese Embassy, Lancaster University, Expressing Ltd., Nottingham City Council, Staffordshire University, The University of Nottingham, Nottingham Trent University and UK Trade and Investment.