University Sponsors Community Festival
08/29/2008 13:53:00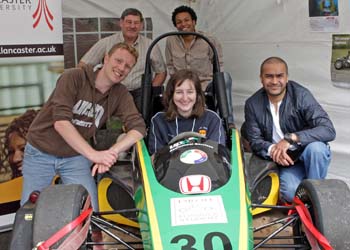 In the car is UG Recruitment Advisor Alison Bowers, left is UK Recruitment Manager Fred Binley, right is Amran Ghoni, back left is technician Barry Noble, and back right is student Keith Gunura
Lancaster University has sponsored a community festival in East Lancashire for the first time in order to reach out to potential students from the ethnic minority community.
Around three and a half thousand people attended the annual Hyndburn Mela and Community Festival held at Hyndburn Sports Centre. The festival was a multi-cultural event featuring live music on stage, arts and crafts, a fun fair and food stalls.
The University's UK student recruitment team attended the event along with a team from the Engineering Department who exhibited their Formula Student racing car. The high performance race car was designed and built by mechanical engineering students in order to compete in the annual Formula Student event at Silverstone.
Amran Ghoni is the University's first ever Black and Ethnic Minority Recruitment Advisor with the job of promoting links within the BME community.
He said: "The racing car intrigued a lot of people and was a good talking point so we used it to promote engineering at Lancaster. We also told people about the dedicated student bus service from East Lancashire to the campus so they know how easy it is to come here even if they prefer to live at home."
The University's £5,000 sponsorship also included the Streets Ahead dance event which attracted over 1,500 people in Accrington town centre during the same weekend of 23/24 August. Other sponsors of the event included the Arts Council, Hyndburn Borough council and Lancashire County Council.
Amran said: "The main objective was to develop long term relationships with the BME community and with key communities in Hyndburn and I think we've achieved that through this sponsorship. We also wanted to promote the degrees we offer to potential BME students and invite potential students and parents to campus."
Nationally, the numbers of BME students applying to be undergraduates at UK universities is very low, with only 9 per cent of Asian applicants and 6 per cent of Black applicants in 2007 as recorded by UCAS, the application service. Lancaster University aims to improve on these figures by achieving as diverse a student body as possible.