Engineering student shortlisted for a prestigious award
09/07/2010 00:00:00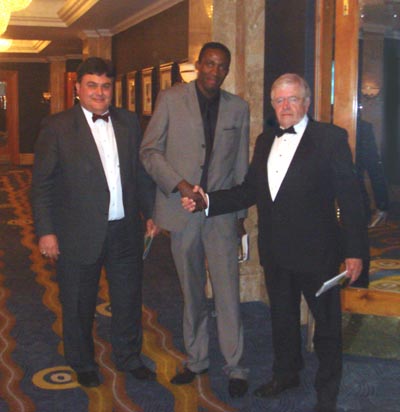 George Aggidis (left) the Director of Lancaster University Renewable Energy Group and project supervisor , Kingsley Adinnu (centre), John Epps (right) from Andritz Hydro
A Lancaster University Engineering student has been nominated as a finalist for a national award for his research into renewable energy.
21-year-old Kingsley Adinnu of Abuja, Nigeria, was one of just three students across the UK shortlisted for The Lloyd's Register Educational Trust Award for the Best Maritime Technology Student.
Third year Engineering student Kingsley worked on a project to develop an automated system for testing pumps and turbines destined for use in the production of renewable energy. Thanks to his work, an entirely manually controlled machine has now been converted into a fully controllable automated instrument.
Kingsley said: "Research in renewable energy is important because of the uncertainty over the energy future and the effects of climate change. I enjoy studying engineering and through my involvement in this project I gained knowledge on renewable energy, fluid machinery, standards, sensors & instrumentation, electronic signal conditioning, computer interfacing, auto-data and computational analysis.
"I intend to use this knowledge and expertise to make the world a safer and greener place and hope to play a significant role in making this impact. I'd like to say a special thank you to the man behind the scenes, my supervisor, George Aggidis."
George Aggidis, Director Lancaster University Renewable Energy Group & Fluid Machinery Group, said: "Kingsley is a formidable talent in mechanical engineering and fully deserves this nomination. He is a first class student with a deep interest in Renewable Energy and Hydropower. Next year, he will continue his research in this important area and I will be supervising his next Renewable Energy Hydropower project."
Supported by British industry and the UK's leading scientific and technical institutions, the SET Awards are established as Britain's most important awards for undergraduate science and technology, providing a showcase for academic accomplishment recognizing the remarkable achievements of both students and universities. From national submissions, three finalists are selected in each category with winners announced at The Awards' Gala Dinner and Presentation Ceremony at the London Hilton Hotel.