Women's Writing Workshop
01/08/2004 14:14:41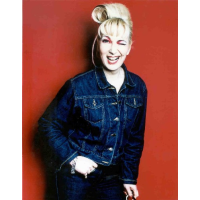 STAND up comedian Jenny Eclair is set to launch a three-year study into women's performance writing with a free workshop at Lancaster University this month.
Dubbed Britain's most gloriously bawdy and balsy female comic by the Sunday Times Jenny will bring her sell-out performance skills to the university as part of a two day workshop exploring humour from a woman's perspective on January 30 and 31.
The workshop lead by the Perrier Award-winning comedian, author, actress and radio personality marks the beginning of a three-year investigation into the ways in which women write for performance.
Project co-ordinator Penny Darby said the programme, funded by the Arts and Humanities Research Board, aimed to understand more about the way women represent themselves in their performance work.
Based in the university's Department of Theatre Studies, the project also aims to create an internationally recognised research unit for the study of women's performance writing, to encourage more academics and performers to think about women's work and to open access to performance-based writing workshops.
Other events organised as part of the research project led by Lancaster University's Prof Elaine Aston and Dr Geraldine Harris, include:
- A three-day workshop with stage and television writer, poet and novelist Jackie Kay. The event, from Friday, February 27 and Sunday, February 29 will focus on women's writing for performance.
- Between Monday, March 29 to Friday, April 2 directors Gilly Adams and Geddy Aniksdal will offer a workshop dubbed Performing Words for performers and aspiring performers who want to develop their own text.
Meanwhile, Jenny Eclair will perform her show "Middle Aged Bimbo" at the Nuffield Theatre, Lancaster University, Saturday 31 January at 8pm
Box Office 0800 028 3042.
Tickets: £10, £5 conc.