Funding for scholarships in nuclear decommissioning
08/16/2006 09:50:20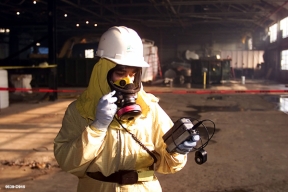 Nuclear decommissioning
Lancaster University's excellence in nuclear engineering has been recognised with support from the Nuclear Decommissioning Authority (NDA). The NDA will fund a number of post graduate scholarships for part-time industry-based students on the University's MSc course in Decommissioning and Environmental Clean-up.
The two year course includes project management, safety, decommissioning technology and robotics, and environmental awareness. It is provided by the Departments of Engineering and Environmental Science at Lancaster together with the Westlakes Research Institute in West Cumbria.
Course director Dr Malcolm Joyce said:"We were amongst the first to start a course of this type and the support of the NDA is a fantastic boost for the University and the companies we serve. Funding the scholarships will make it easier to attract students from small and medium sized firms in Cumbria who seek a role in the enormous decommissioning challenge at Sellafield."
He said the university's track record in providing expertise for the nuclear industry had paid off.
"We've always had positive feedback from industry and our record in this field means we're ideally placed to help the region, create jobs and fulfil a national need for decommissioning."
The NDA is keen to support educational developments that focus on decommissioning and clean-up to help both the existing and future workforce acquire the skills and knowledge necessary to meet the challenge of decommissioning.
Dr Ian Hudson, the NDA's Head of Technology and Skills, said:"Individuals have to be able to acquire the skills necessary to make the transition from operations to decommissioning. In supporting this course we hope to encourage contractors in local supply chains to retrain and reskill their employees so they can make the most of the opportunities that decommissioning will bring."
http://www.engineering.lancs.ac.uk/