Ecologists gather for Lancaster meeting
08/17/2004 09:51:23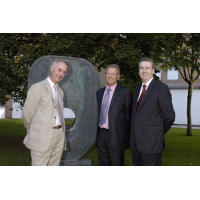 Hundreds of ecologists visited Lancaster University for the British Ecological Society's Annual Meeting. The conference, from September 7-9, is the UK's premier ecological event and attracts delegates from around the world.
It's the first time in a decade that the meeting has been held at the University, said organiser Dr Ian Hartley from the Department of Biological Sciences. "Lancaster is one of the leading universities for ecological research. Also the Lancaster Environment Centre, which has only recently opened, is very important nationally, so it was an obvious place to bring people together for the annual meeting."
Around 700 delegates attended the conference, aimed at providing a forum for people involved in ecology to discuss ideas and projects, put forward new proposals and findings, and to meet other people in their field of expertise.
"It allows people working on various ecological projects to get together once a year to swap ideas and perhaps meet people who they may previously have known only from phone conversations," said Dr Hartley.
A number of the speakers at the conference were Lancaster University-based academics, including Mark Mainwaring from the Department of Biological Sciences, who talked about long-term population trends in the pied flycatcher in Britain, and Dr Lisa Norton from the Centre for Ecology and Hydrology who delivered a paper on the impacts of organic and conventional farming systems and farm management on hedges.
Other highlights of the event included Professor Alastair Fitter's Presidential Address; the BES lecture, given by Professor Sir David King, Chief Scientific Advisor to the Government, on the subject of climate change; and a display of the winning entries of the BES's first photographic competition at the Nuffield Studio Theatre.
Delegates also had the opportunity to tour the Lancaster Environment Centre as well as attend an open session held by the Natural Environment Research Council, who are based in LEC.
Picture caption - left to right, Professor Alastair Fitter, BES President, Professor Sir David King, Chief Scientific Advisor to the Government, Professor Paul Wellings Lancaster University Vice Chancellor.