Entrepreneur Award for Environment Centre Company
11/26/2008 14:29:32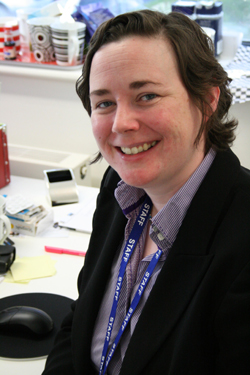 Becky Toal
The managing director of a company based at the Lancaster Environment Centre has been named as one of the Future 100 Young Entrepreneurs of the Year during Global Entrepreneurship Week 2008.
The Future 100 Awards profiles young entrepreneurs aged 18-35 who are demonstrating entrepreneurial flair and innovation in progressing a responsible business venture; one which demonstrates a balance between economic, environmental and social goals to achieve ultimate business success.
Becky Toal is founder and Managing Director of LEC-based Crowberry Consulting Ltd - an environment, ethics and corporate responsibility management consultancy.
Crowberry Consulting provides bespoke consultancy support in these areas and also training on carbon management, green procurement and CSR. Crowberry Consulting is a member of the Buy Recycled Code, has both Climate Change and Environmental Policies, and works with clients to reduce their environmental impacts and engage with local communities. The company has co-developed an online tool for event planners to design and run events with sustainability in mind, which follows the British Standard 8901 for sustainable events.
Becky said: "It is fantastic to be recognised as one of the top 100 next generation of young ethical entrepreneurs.
"Business can lead to positive impacts for both the environment and society. We are increasingly working with clients that recognise the importance of managing environmental and CSR risks, ensuring that the next generation can live in a healthy, sustainable world."
Heather Wilkinson, founder of Striding Out and organiser of the Future 100 awards said: "The future of our world is in the hands of individuals who are committed to generating commercial and ethical returns.
"Challenging economic times can offer opportunities to question the way we operate as both a business community and a society. We are profiling the 'Future 100' young entrepreneurs who are changing the face of everyday business and improve commerce's impact on the wider world."
The Future 100 awards, encourages and rewards extraordinary vision, ethical business practice and social responsibility. They aim to showcase businesses that offer innovative and sustainable solutions to social problems. The Future 100 Awards is organized by Striding Out, a social enterprise which is committed to supporting the development and growth of young and ethical entrepreneurs.
Crowberry Consulting is based in The Lancaster Environment Centre's knowledge business building. The building provides accommodation for businesses wishing to co-locate alongside the Lancaster science base, houses LEC's Enterprise and Business Partnerships team and provides space for the Research and Development activities of several larger commercial organisations as well as accommodation for start-up businesses from both outside and within the University.