Volunteer Unit celebrates with schools
06/06/2006 12:22:15
Lancaster University Volunteering Unit has hosted a celebration of its projects involving young people across the region.
The event, held at Lancaster Town Hall on Tuesday, May 16, saw the Unit's volunteers, partner organisations and pupils from the Schools Partnership project coming together to share their experiences.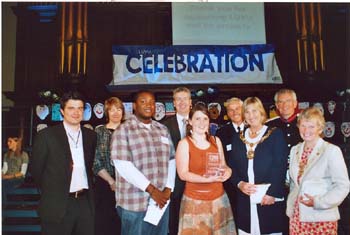 Celebrations at the Town Hall
The celebration included prizes awarded to pupils involved in the better reading project, musical performances by pupils from The Loyne School, West End Primary and Ellel St. John's Primary schools.
There were also presentations from Central High and Heysham High School on the benefits of selling and promoting Fair Trade goods.
The Unit's Community ICT programme, CommIT was acknowledged for particular success following its nationally-recognised Higher Education Funding Council for England award for excellence. LUVU's crime prevention project SAFE, which has been awarded prizes and nominations for awards for work in the community, was also singled out for praise.
Ben Matthews Director of LUVU said: "Having this year's event in the Town Hall proved to be a great way to celebrate the relationships between Lancaster University and its local community. The energy, enthusiasm and dedication of those involved in projects spoke volumes of the positive impact students are making. The LUVU staff and volunteer team now face a real challenge to develop a range of even better projects for next year."
For further information on LUVE go to http://www.luvu.org.uk/