Sculptor Praises University Business Support
12/03/2007 17:27:45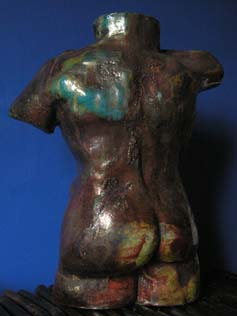 Wyn Abbot: Raku Male Torso. Clay - Raku fired, 2006
A sculptor who has set up her own business with the help of the University says the advice provided has been "fantastic".
Wyn Abbot is among several emerging artists on show at the Peter Scott Gallery on campus, where their work is for sale.
The exhibition includes paintings, drawings, prints, photographs, ceramics and jewellery and is a wonderful opportunity for visitors to buy original artworks.
Eight of the artists are all members of the Young Creatives Network which was established by Grow Creative, a creative industries development project run by the University's Innovation and Enterprise Unit. Grow Creative aims to provide support and advice to newly established creative companies and individuals in and around the Lancaster and Morecambe areas.
Wyn, who has a studio in Hornby, said the help provided by Grow Creative has helped grow her fledgling business.
She said: "Grow Creative has been excellent and it's helped me move my business on a lot more quickly. When you're really new, you need to know how to market yourself and that's where they've really built up my confidence. It can be isolating setting up on your own, but I know I only have to pick up the phone to speak to someone for advice. The network of other artists doing the same thing has also been great because you can share your experience and problems."
Charlotte Stuart is the Project Manager for Grow Creative.
She said: "This is the first time most of these artists have exhibited in a gallery so it's a real opportunity for them. They've also learnt about marketing, how to display and how to price their work. The next stage is to have a seminar about pitching their ideas."
Works by more established artists and makers from the North West region can also be seen in this exhibition.
Nik Ingham and Emma Hunter are two Lancaster artists from the former Luneside Studios. Mixed media works by Nik Ingham are on display, alongside a series of delicate graphite drawings by Emma Hunter - a graduate of Lancaster University.
A number of artists from East Lancashire are also represented. Marjan Wouda, a sculptor working in Darwen is exhibiting several bronze sculptures and charcoal drawings. Roy Hubbard from Brierfield near Burnley shows botanical prints accompanied by poetry. A number of works by a group of painters working in Ribchester in the Ribble Valley are featured in the exhibition. One artist, Angela Wakefield, bases her work on townscapes around East Lancashire.
Also on display at the Gallery is a wide range of ceramics, including works by members of the Bay Potters and Made in Lancashire, and a fine selection of hand-made jewellery.
The Art Fair exhibition runs until December 14 from 11am to 4pm Monday to Friday.
Also on display at the Peter Scott Gallery until December 14 is an exhibition of works by Alf Dunn. Dunn worked at the Royal College of Art for a number of years as a Senior Tutor, and is now based in Lancashire. This exhibition shows a range of bronze and stone sculptures, alongside artists' prints. All works are available for sale.